The Big Boom
Make sure you get out there and celebrate this Independence Day!
Independence Day 2014: Parades, Fireworks & Events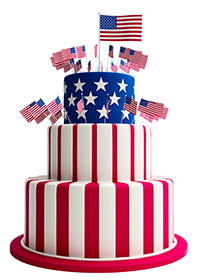 Need to know when and where to celebrate this Independence day? Look no further…we've compiled an extensive list of local fireworks, parades, and events to help ensure you can celebrate this 4th of July…stress free.
Fireworks and celebrations go together, especially during the Fourth of July or New Year's festivities. This year we ask that you be especially safe by checking out our brief guide to fireworks safety.
Parades
Thursday, July 3rd
| City | Event | Time |
| --- | --- | --- |
| Neenah | Parade of Lights | 9:15 pm |
| Sheboygan | Venetian Boat Parade | Dusk |
Friday, July 4th
| City | Event | Time |
| --- | --- | --- |
| Antigo | Antigo 4th of July Parade | 7:30 pm |
| Bailey's Harbor | "Hats Off To Our Heroes" & 120th 4th of July Parade | 10:00 am |
| Bonduel | The Village of Bonduel 101st Annual 4th of July Parade | 11:00 am |
| Cedarburg | Hometown Celebrations 4th of July Parade | 10:00 am |
| Crivitz | Crivitz 4th of July Parade | 11:00 am |
| Eagle River | Eagle River 4th of July Parade | 11:00 am |
| Egg Harbor | Egg Harbor Independence Day Parade | 1:30 pm |
| Green Lake | Boat Parade | 2:00 pm |
| Hilbert | Hilbert 4th of July Fireman's Parade | 11:00 am |
| Minocqua | Minocqua 4th of July Parade | 4:00 pm |
| Mosinee | Mosinee 4th of July Parade | 6:00 pm |
| Omro | Omro 4th of July Parade | 12:00 pm |
| Oshkosh | Sawdust Days Parade | 9:00 am |
| Rhinelander | Rhinelander 4th of July Parade | 11:00 am |
| Sheboygan | Sheboygan 4th of July Parad | 9:00 am |
| Stevens Point | Stevens Point 4th of July Parade | Noon |
| Three Lakes | Three Lakes 4th of July Parade | 9:00 am |
| Waupaca | Hometown Day Parade | 10:00 am |
| Wauwatosa | North Avenue Parade | 9:00 am |
Fireworks
Saturday, June 28th

| City | Location | Time |
| --- | --- | --- |
| Dale | Daufen Park | Dusk |
| Janesville | Freedom Fest | 9:30pm |
| Portage | Pauquette Park | Dusk |
| Neillsville | Highgrounds Veterans Memorial Park | Dusk |
| Princeton | City Park | Dusk |

Sunday, June 29th

| City | Location | Time |
| --- | --- | --- |
| Freemont | Over the Wolf River | Dusk |

Thursday, July 3rd

City
Location
Time
Appleton
Memorial Park
9:20 pm
Clintonville
W.A. Olen Athletic Field
Dusk
Egg Harbor
Harbor View Park
Dusk
Iola
Taylor Field
Dusk
Kewaskum
Riverhill Park
Dusk
Madison
Lake Monona
9:30pm
Mayville
City Park
9:30pm
Milwaukee
Veteran's Park
9:00pm
Shawano
Shawano Airport
Dusk
Wausau
Marathon Park
Dusk
Weyauwega
Waupaca County Fairgrounds
Dusk

Friday, July 4th

| City | Location | Time |
| --- | --- | --- |
| Antigo | Antigo High School | 9:20pm |
| Bailey's Harbor | Downtown | Dusk |
| Berlin | River Side Park | Dusk |
| Bonduel | Village Park | Dusk |
| Cedarburg | Cedar Creek Park | 9:30pm |
| Crivitz | Lake Noquebay County Park | Dusk |
| Eagle River | Hi-Pines Campground | Dusk |
| Elcho | Otter Lake | Dusk |
| Elkhart Lake | Fireman's Park | Dusk |
| Fond Du Lac | Lakeside Park | Dusk |
| Gills Rock | Over the Bay | Dusk |
| Green Bay | Downtown | 9:45pm |
| Green Lake | Over Dartford Bay | Dusk |
| Janesville | Traxler Park | Dusk |
| Kewaunee | Downtown | Dusk |
| Kohler | Ravine Park | Dusk |
| Lake Tomahawk | Snow Shoe Park | Dusk |
| Manitowoc | South Pier | 9:45pm |
| Maplewood | Robert Baumann Memorial Ball Park | 9:45pm |
| Menasha | Jefferson Park | Dusk |
| Menomonie | GMAYP Freedom Fest | Dusk |
| Minocqua | Over the Lake | Dusk |
| Mosinee | River Park | Dusk |
| Neenah | Riverside Park | Dusk |
| New Berlin | Malone Park | 10:00pm |
| New London | Hatten Park | Dusk |
| Oconto | Holtwood Park | 9:30pm |
| Omro | Scott Park | 9:30pm |
| Oshkosh | Miller's Bay Menomonee Park | 9:45pm |
| Park Falls | 5th Street Athletic Field | Dusk |
| Ripon | Murray Park | Dusk |
| Sheboygan | Riverfront Park | 9:30pm |
| Shiocton | Main Street | Dusk |
| Sturgeon Bay | Sunset Park | Dusk |
| Three Lakes | Don Burnside Park | Dusk |
| Tomahawk | Sara Park | Dusk |
| Two Rivers | Walsh Field | Dusk |
| Washington Island | Main Street | Dusk |
| Waupaca | South Park | Dusk |
| Waupun | Tanner Park | 9:45pm |
| Wausau | Marathon Park | Dusk |
| Wautoma | Waushara County Fairgrounds | Dusk |
| Wauwatosa | Hart Park | 9:15 pm |
| West Bend | Riverside Park | Dusk |
| Winneconne | Main Street | 9:00pm |

Saturday, July 5th

| City | Location | Time |
| --- | --- | --- |
| Fish Creek | Clark Park | Dusk |
| Rosholt | Rosholt Fair Park | Dusk |
| Stevens Point | Mead Park | Dusk |
| White Lake | White Lake | Dusk |