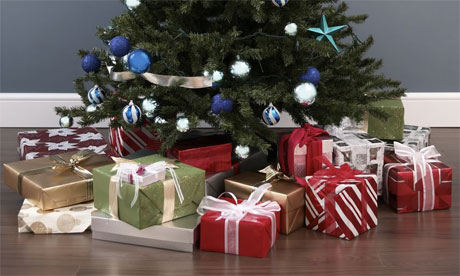 NEWS BLOG (WSAU) Just about the only true statement about gift-giving is "Oh, you shouldn't have." When you hear it, the recipient is probably expressing their exact, true feelings. You shouldn't have bought me that sweater with the Christmas tree on it, or the new kitchen-knife set.
George Will writes that Christmas shopping is inefficient -- and he's right. The gift-giver invariably pays more for most gifts than the receiver thinks it is worth. And, as he writes in his op-ed piece, our economy works best when there is full-value on both sides of a transaction. Read it here: http://tinyurl.com/yl2tj3n
The best deal - in any situation - is when both sides feel that they've gained something of value. It's not a good deal when one side overpays, or gets less value or enjoyment than they expect. To put it in simpler terms, any retailer will tell you that returns and exchanges are bad for business.
But enough of the economics of Christmas. My more immediate need is to manage floor space under the tree.
As anyone who's ever given jewelry for Christmas can tell you, a diamond may take up the entire gift-budget, and the area underneath the tree looks empty.
This year my two oldest kids want I-pods. Those are big-ticket items in our house. My two youngest want leap-pads, which are also expensive. These are compact electronic items that take up very little under-the-tree real estate. I don't want to risk "Christmas looks smaller this year, daddy." For now I'm searching for the lessons. Good things come in small boxes. Many people are having a smaller Christmas this year. And there's a reason for this holiday that goes beyond stimulating the economy by buying stuff.
Chris Conley
Operations Manager-Midwest Communications, Wausau
12.7.09
I'm off-air today. Some emergency oral surgery (Wisdom tooth had to come out. Very painful - before and after.) I will be out again Tuesday, and will be back on Wednesday morning.