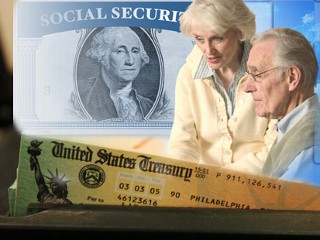 NEWS BLOG (WSAU): The Executive Director of the Wisconsin Alliance for Retired Americans, Billy Feitlinger, said this to our state capital reporter about social security:
"We feel very strongly, if it is not the greatest program that the federal government has done, it's clearly one of the most successful programs." http://tinyurl.com/26du88n
Ugh.
This is the program, along with Medicare, that is most likely to bankrupt the federal government.
The fundamental flaw should have been noticed 75 years ago. It is painfully obvious today. Social security is based on the false assumption that each generation of workers will be larger than the next, as it is dependent on more people paying into the system. This is not always the case. The baby boom generation is larger than current generations of workers, and we have more people drawing from the system than putting into it. It is not a sustainable system when three people must put in for every one retiree who's taking out. Smaller work forces are not unprecedented. The Soviet Union had a dramatically smaller generation of workers because of soldiers' deaths in the Red revolution. Ireland had a smaller generation of workers after immigration from the great potato famine. Although there's no way of knowing for sure, Cuba may have a smaller generation of workers now from poverty and (attempted) migration to the U.S.
But to say it is our greatest government program ever is shocking.
I'm not sure I'll ever collect social security. And I think of whatever is taken out of my paycheck as a tax. It's a stretch of the imagination to believe it is going into my personal account with my social security number on it for my retirement.
My dream is to be allowed to opt out of the system if I can demonstrate that I'm making responsible preparations for my retirement. Suppose for a moment, that at age 40, I was allowed to take my current FICA deduction and put it into U.S. government-backed T-bills, and the matching contribution that my employer makes goes into the same account. I would have a $320,000 retirement nest-egg by 65. And it would be money that my wife or children could have if I were to pass away early.
It is by far a better deal than a 40-year-old worker gets under the current system, where the retirement age will almost certainly be raised and the FCIA taxes will almost certainly go up. Of course the only problem with the 'opt out' system is that it will bankrupt the current system. And the current system will collapse sooner rather than later once general-revenue from the treasury is needed to pay current retirees.
Social security is great, and necessary, for the 75 year old widow who planned on receiving it. But it is far from "the greatest program ever" for the working class.
Chris Conley
Operations Manager, Midwest Communications-Wausau
8.10.10