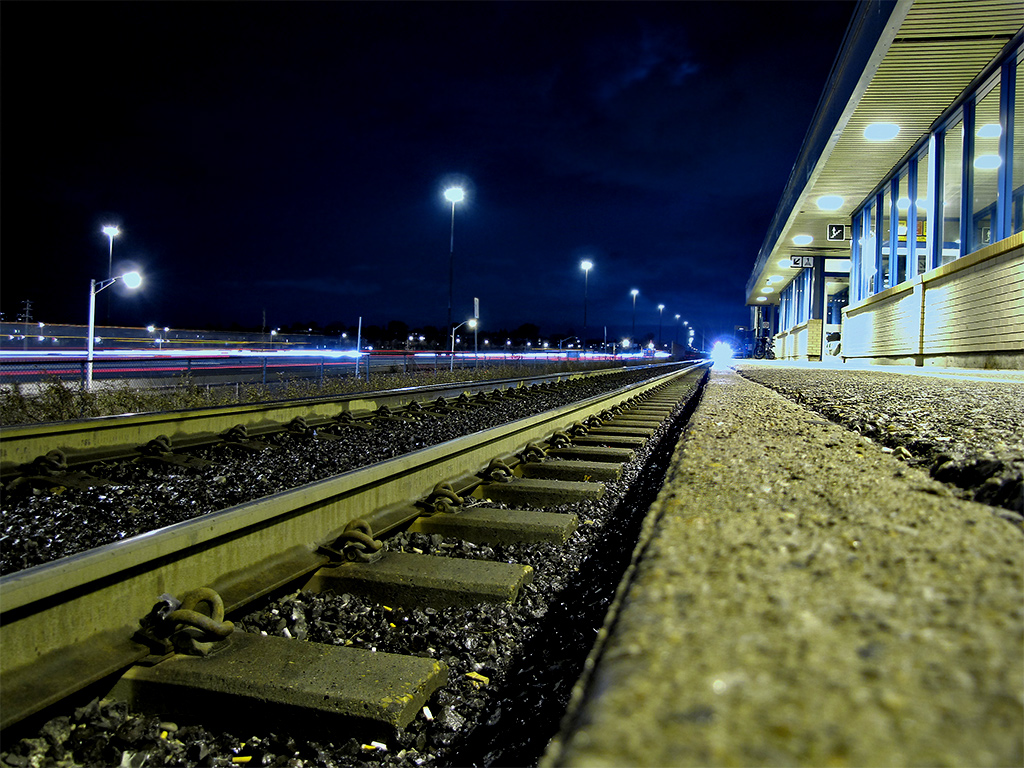 TRAIN BLOG (WSAU) I loved my job in Laconia, New Hampshire, but I missed the time off. College life was filled with Thanksgiving recess, and a month off between semesters for Christmas and New Years. Gone was spring break and a summer vacation that lasted from late May to early September. Instead I had to work a full year to earn my first paid vacation.
I wanted to take an overnight train trip. I booked an Amtrak vacation package to Chicago, which included three nights in The Palmer House. I'd travel from Claremont Junction, New Hampshire to New York City on the southbound Montrealer. Then I'd board The Cardinal in New York, and travel south to Washington, then west through the Maryland panhandle and across the Ohio River valley to the Midwest. The trip would take about 28 hours.
It was mid-February when my travels began. The Montrealer was an overnight train that left its namesake city in Canada at 9pm. It arrived at Claremont Junction around midnight. The following morning it would arrive in New York, and would then continue to Washington for a lunchtime arrival. I'd heard on Fridays and Sundays the train was usually filled with skiiers.
It was a clear, freezing cold night when I locked my apartment in Laconia and loaded my suitcase into my car. It was a two hour drive to Claremont. There were no east-west interstates in New Hampshire. This trip would be mostly on rural state roads with pine trees to each side and a starlit sky above. I scanned the radio dial for something interesting to listen to. Vermont Public Radio had an unusual radio documentary on the history of rockabilly. I was rockin out to old Elvis and Carl Perkins songs that I'd never heard before. I arrived at the train station about 15 minutes before train time.
The station at Claremont Junction was creepy. It looked like a big wooden barn. You could tell you were far out in the country, but the station still towered three or four stories over your head. It looked abandoned. The place was locked. The only light was a single bulb from socket that hung over the door near the platform. I was the only person there.
A sign on the door said "Station Closed, call 800-USA-RAIL for train status." The payphone was in a dark corner of the gravel parking lot. I took my gloves off and squinted to see the numbers on the push-buttons. The receiver was cold as I touched it to my ear. "Please enter train number," the automated voice on the phone said. I didn't know the train number. "Press zero for an operator."
After a long wait in the snow, a man came on the phone. I told him I was all alone at Claremont, it was freezing cold, and I was wondering if I missed my train. He would check. "That train's always late," he said as I heard the clicking of his computer keyboard.
That night's Montrealer was held 90-minutes at the Canadian boarder for customs inspection. "They can do that," the Amtrak operator said. "And they've had some equipment problems because of the cold." At last report they were running two hours late. "You really can't tell with that train," the man said.
"I'm supposed to wait at a locked station in the freezing cold for two hours?" I asked.
"Could be longer than that," he said through the phone line.
The last report in his computer was at the customs station at St. Albans. The other stations since then at Essex, Waterbury, and Montpelier were no different than Claremont. There was no station agent on duty to relay how late the train was. Those stations were closed and boarded up too. It was possible the train lost even more time between there and here.
"What should I do?"
"Just wait. It'll get there eventually."
"It's 4 degrees. Just wait where?"
"In your car. Or maybe there's a diner nearby, or some place like that."
I got into my car and turned the key. The engine groaned and came to life. The heater was starting to warm up. I'd try to find a diner, even though the station was about 10 minutes out of town. I turned on the radio. The rockabilly special was over. Vermont Public Radio was airing a special program called outer space, featuring music from si-fi movies and tv shows. An orchestra was playing something from Star Wars or 2001: A Space Odsysey.
I found a diner a few miles up the road. It also had a gravel parking lot and looked like a barn with a single light in the parking lot. But the neon sign said "open" and there were two cars outside. I'd have some coffee. Inside were a man and woman with a suitcase. "The Montrealer?" I asked. "It's always late," they said. They travel to New York a couple of times a year, and they knew to call the 800-number before going to the station. They also knew that the station agent at Montpelier stayed on duty until midnight, and if they called that station direct he'd let you know if the train had already come through. If it had, you could spend 20 minutes at the diner. If it hadn't, your wait could be much longer. Tonight it hadn't.
1-30 in the morning. After a hearty omlet and a second cup of coffee to go, I'm back at the station listening to something that sounds like 'The Charge of the Light Bridage' that makes me feel like a UFO will be landing in the train station parking lot any moment. I've given up any pretence of waiting at the station. I'm in my car with the engine running. I'll turn it off, lock it, and run for the train when it gets here.
Over the sound of crashing symbols and bass bassoons, I hear a train whistle.
An engine's headlight shines through the darkness. The Montrealer is arriving almost two hours late. An FP-40 diesel is at the head of the train. It's exhaust almost looks like smoke against the cold night air. A stainless steel baggage car rolls by behind the engine. There are two coaches. A lounge car, clearly older than the rest of the train, has the words 'le pup' stenciled near the door. There's one 6 & 10 sleeper on the rear of a shabby looking train.
A conductor emerges from the one open coach door. He sets down his yellow foot stool down as we climb aboard. "Sorry we're late, folks" he says. "The toilets onboard are frozen up. They tried to fix it." I enter the train. "Sit anywhere you can. We're very crowded tonight."
I look at the coach. The overhead baggage racks are filled with skis. There's not a seat to be found. I look into "le pup". The lounge car is dark; the attendant has stopped serving for the night. But there are people sitting at the tables and single seats. Many have beer cans in front of them, having stocked up before last call. "Le pup" has the unmistakable smell of a backed up toilet. I take a seat at a table that already has three people sitting at it. Two appear to be passed out. The one who's awake is working on a beer with three empties nearby. The Montrealer jerks forward as the train moves out of the station. The drunks at my table have their bodies shake and rock as the train sways. One looks like he might throw up.
The conductor comes by to take my ticket. I remember that conductors are authorized to sell unused sleeping car space. "Do you have room in the sleeper?" I ask. "Yep, only one family back there. Mother and her two daughters. And they're pretty upset." The conductor suggests that I check things out in the sleeper before I decide if I'd like to pay $65 more for a compartment.
I walk to the back end of 'le pub,' past the small rest room that is indeed backed up and has left a brown puddle on the floor. I walk through the vestibule, where the cold night air suddenly feels clean and fresh compared to the stench of the train. Opening the door to the sleeper, I'm hit again with the smell of a backed up toilet. A young child is crying. A woman in Compartment 1 glares at me. "If you're going to throw up, don't come in here," she says. Apparently the drunks from the club car have been using the private toilets in the sleeper since their facilities failed. I walk into Compartment 2. There's a mess on the floor near the toilet. Same in Compartment 3. At the very back of the sleeper is a roomette that hasn't been soiled. But the smell is awful. I decided against paying for an upgrade.
Back in 'le Pub' the woman that I'd met in the diner at Claremont has taken my seat.
I decide I'll stand in the vestibule. It's cold. But it doesn't stink.
The conductor comes by to take my ticket. "You can't stand in here," he said. I tell him I'm going to anyway. He gives me an 'I don't blame you' look. He comes back a few minutes later and strikes up a conversation. "Night after night, nothing but drunks on this train," he says. Skiiers get loaded up before heading to the slopes in Canada. And they drink more as they head back home. I suddenly realized he has to work in this mess every day. "We make a service stop in Springfield," he says. "A mop-up crew will come on and clean things up as best they can." He asks where I'm going. "Much nicer train," he says of The Cardinal. "Let me see your ticket."
The conductor takes my ticket vouchers. He pulls out his ticket coupon book at his ticket punch. He begins punching out new tickets for me. He hands me one. "I get off at Springfield and a new crew comes on," he says. "If they do a good job with the sleeper you can stay in room 6. No charge. Give this to the new conductor." He continues punching another ticket. "Get off in New York and get The Cardinal there. Give them this ticket." He explains that the room I'm supposed to sleep in at Washington will already be made up in New York when The Cardinal begins its trip. The porter will think nothing of a hand-punched ticket. That happens all the time for missed connections. I can catch up on my sleep once I change trains.
The train was cleaned up at Springfield, although it's possible my nose adjusted to the smell in the hours that followed. Room 6 was ok. At sunrise the Montrealer heads over the Hells Gate Bridge into New York City. The Cardinal is on an adjacent track, about to leave Sunnyside Yard right behind us. My first bold adventure by train to the Midwest is off to a strange start, and I'm not even half way there.
Chris Conley
Operations Manager, Midwest Communications-Wausau
7.16.10