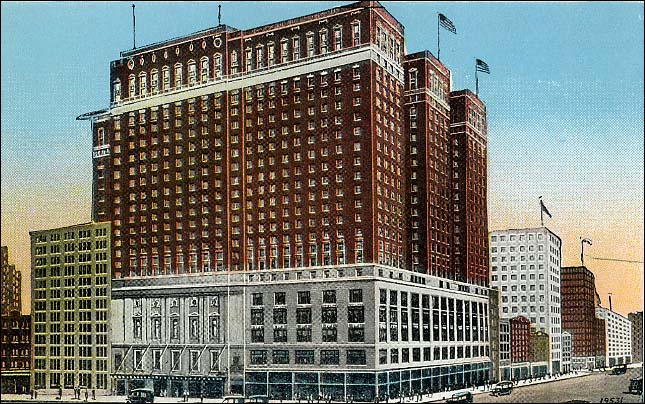 TRAIN BLOG (WSAU) If you fly, you know about hub airports. It's where most people change planes. Delta will fly you from Wausau to Minneapolis, but you'll have to change planes there to get to your ultimate destination.
Before airlines dreamed up the hub system, passenger railroads had gateway cities. One railroad's tracks ended there. Other railroads began there. It's where passengers changed trains.
St. Louis was a gateway city. So was New Orleans. For smaller eastern railroads, their tracks ended in Buffalo. Vacationers traveling to Maine knew that Boston was a gateway city for points north. Toronto was where American railroad tied up, and where Canadian lines began.
But the greatest gateway city of all was Chicago. The two biggest eastern lines, The New York Central and The Pennsylvania ended there. So did half a dozen other roads. The great western railroads that stretched to the west coast began in Chicago. The streamliners of Burlington, Union Pacific, Rock Island, and Santa Fe began their trips towards the Pacific in Chicago.
If you think changing planes in a hub city is a pain-in-the-neck for modern travelers, making railroad connections in Chicago was even more difficult. Some eastern roads offered through sleeping-car service. But it was expensive, and your sleeper could be cut off one train, hauled to a train yard for a few hours, and then shoved onto the back of your next train later in the day. Passengers tended not to like being in an "abandoned" sleeper around 16th Street on Chicago's south side for an afternoon. You might have to get from one station to another. The Baltimore & Ohio's Capital Limited arrived at Dearborn Street Station. Your connection on the Burlington's Denver Zephyr would be at Union Station. There are many stories of expensive cab rides in the rain and missed connections from old-time railroad travelers.
Many would add an extra day to their trip to avoid the connection problems in Chicago. After a night in a cramped sleeping car from New York, a more relaxing evening in a Chicago hotel could be a better choice than rushing to a connecting train where you'd spend another two nights over-the-road to the west coast. Besides, Chicago in the summer is a great city. Good restaurants. Music. Shows. Lots to do.
The greatest of all railroad hotels was The Palmer House. It was a short ride from any of the city's six major train stations. They were experts at handling and transferring your baggage. Famous restaurant on site, others nearby. Two blocks from all of Chicago's major theaters. A luxurious lobby and white-glove service.
No one travels by train today. All of Amtrak's trains come into one station… and all eastern trains arrive in the morning, and the western trains leave in the afternoon. There's really no need for a railroad hotel. The Palmer House survives on reputation alone. Name one hotel in Chicago… this is the one most people know.
I spent three nights in the Palmer House at the end of my first train trip to Chicago. It was the best old-time hotel I'd ever been in. I thought of ways to shove the complimentary bathrobe with the embroidered "P" on the breast into my luggage. It wouldn't fit. I settled for stealing a towel and an ashtray. A very un-classy act from someone staying in such a classy hotel.
Chris Conley
Operations Manager-Midwest Communications, Wausau
7.31.10