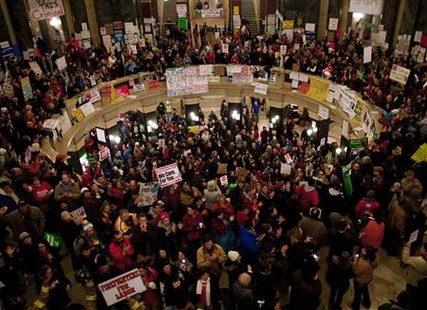 NEWS BLOG (WSAU) Charles Tubbs was in over his head. He was the Capitol Police Chief at the time protestors took over Wisconsin's state house last February and March. The job description is to maintain security and order in the capitol building and grounds. He failed miserably.
The new man is David Erwin.
Here is what Chief Erwin faces each day: At noon, a small group of protesters gather beneath the rotunda and sing anti-Scott Walker songs. Some of the more militant protesters, if they recognize a Republican lawmaker or staff member by sight, will shout at them. Three or four of them sometimes try to surround their opponents, blocking them from moving from office to office within the building. Many of these confrontations include foul language and generally rude behavior.
Chief Erwin's challenge is to not go too far in the other direction. People do have the right to protest. Others have a right to expect decorum and general access and security when they have business with the legislature in Madison. The requirement for 72-hours-in-advance permits for capitol protests probably goes too far. The Walker administration should re-think it.
But the state capitol is also an office building. Capitol police and the Department of Administration should establish regular hours for the building, and, unless the legislature is in session, the building should be closed and cleared of all visitors when the business day ends. Occupying the building should no longer be allowed.
Violating someone's personal space, blocking their free movement within their place of business, and cussing at them warrants a disorderly conduct charge. Until now those cases had been referred to the Dane County DA's office, which has declined to prosecute. Chief Erwin says he'll now refer those charges to the state Department of Justice, where prosecution is certain.
Governor Walker's opponents, defeated by not cowed, have a right to assemble and demonstrate. But there are lines for boorish behavior. Hopefully the state house now has the right person to enforce those reasonable limits.
Chris Conley
8/28