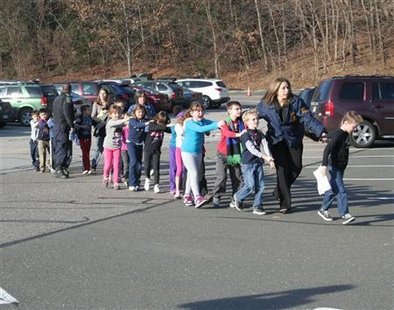 NEWS BLOG (WSAU) Many listeners know that my family lives in Connecticut. Newtown is about an hour away from where my parents live. I know Newtown – an inland town that looks more like the New England you'd see in Vermont that the suburbia of the coastal part of the state. It's a bedroom community near Danbury. It's one of those places people think of as quiet and safe. I had a friend who lived in Newtown, but has since grown up and moved away. We'd visit them a few times a year in their while colonial home with a large wooded area near their backyard.
Gun ownership is less common in Connecticut than it is here. There really isn't much of a hunting culture. Unlike Wisconsin, many homes don't have firearms in them. Although concealed carry is allowed in Connecticut, very few people exercise that right.
There are already stories of heroes – staff members who protected students while putting themselves at risk. There is also the 'fog' of breaking news – the number of dead is likely to be revised as the story develops. This appears to be a child custody / paternity dispute that turned deadly. The gunman is from New Jersey, but he grew up in the area. The gunman is believed to have killed his mother and father before coming to the school.
You can expect the tired old debate about gun control to fire up again. The much more obvious issue – the mental health of the shooter – will be given short shrift. It takes a sick mind to slaughter a classroom of kindergarteners. He'd have used a knife, a sword, or sticks and rocks if his determination to kill was strong enough.
I still can't imagine what I'd say to my kids – my youngest are 7 years old – if this happened at their school. How to you explain to a child that age that someone's blind rage snuffed out their friends' lives? The children in Newtown were told to close their eyes as they were led from the school, for fear they might see the carnage. For the rest of their lives, will they ever be able to look away?
Chris Conley
12.14.12