A theater-themed blog from onboard westbound #29, The Capital Limited, en route to Chicago at the end of my vacation. I'll be back in Wisconsin tomorrow, and will return to WSAU on Monday morning. Danielle and I saw last Tuesday night's performance of the hit-musical Wicked at the Gershwin Theater in New York.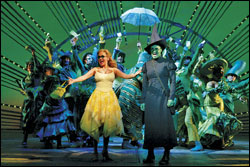 NEWS BLOG (WSAU) Here's a complaint that was heard for years among Chicago Cubs fans. The owners never put any money into the team. Year after year the Cubs would struggle with a team of loveable misfits. You can almost image management's way of thinking. We play in a small ballpark. It's filled almost every afternoon. Win or lose, our fans still come out. So why spend millions of dollars signing free agents to big-money contracts when it doesn't impact the economics of our ballclub? The only losers in the equation are the fans who got cheated out of a contending team year after year.
Some of that thinking has seeped into Broadway – and at $100 a ticket (for the back row of the third balcony) something should be said about it.
Wicked is a hit. It's about to enter its 9th season, and it's still selling out its weeknight performances. It regularly grosses $2-million a week, making it one of those dreamed-of-but seldom-achieved successes for its financial backers. It also has a very well-done book (it's written as the back-story of The Wizard of Oz, just before Dorothy's arrival). It also has a very good score that's known to almost every teenage girl in the audience after being featured on Glee! There's just one problem. The New York producers have no incentive to keep the quality up. Many of the individual performances I saw on Tuesday night were marginal, and certainly nowhere near the standards one should expect from Broadway.
This problem was hinted at in a 2005 New York Times re-review. It described the cast as 'coasting', and said the talents were wildly uneven. That was a kind assessment. If you get a chance, see a hit show in its first year – while the original cast is intact. Many don't renew their contacts after a year, especially in a show were getting covered in green make-up eight times a week is part of the deal. Replacements, even if they're theater pros, never get as much rehearsal time as the original cast. Start throwing in second-stringers with little or no Broadway experience, and you get the equivalent of a restaurant meal when the kitchen-staff is on vacation.
Kristin Chenoweth and Edina Menzel created the leading roles. They are both A-level theater stars; replacing them would be difficult under any circumstance. Our Glenda wasn't a strong singer, and was a passable actress. Our Elpheba was far more talented than her co-star. She had a big singing voice, but played it safe -- holding back at the places where the score was supposed to soar as if belting it out on Tuesday might leave nothing in the tank for the weekend. The two female leads take their bows together at the end of the evening. Good thing – only one was up to the part, and the applause would have reflected it.
So this begs the question, is this also happening with the other long-running Broadway shows? Would I have the same complaint if I scored tickets for Chicago, Mama Mia! or Phantom of the Opera? Not everyone in the audience is a tourist from East Hayseed. Even the out-of-towners can pick up on a shaky performance. People who regularly attend the theater expect to see actors who are at the top of their craft when they see a Broadway show. Quality control, anyone?
Chris Conley
7/14/12