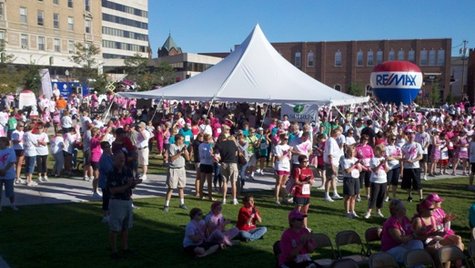 NEWS BLOG (WSAU) If you haven't done so yet, I'd invite you to downtown Wausau on a Wednesday afternoon. Bring a blanket and maybe a picnic dinner. Pick a nice spot on the 400-Block and enjoy an evening of live music and good company.
Many of you already are.
Each Wednesday during the summer there are large crowds on the 400-Block for concerts on the square. Regular concert-goers know to get there early and make a night of it. The block fills up early. By the time the music starts, there's very little space. Yet despite the crowds, these remain popular and well-run events. The venue and the space blend almost perfectly. This is what people envisioned when our downtown square was renovated two years ago.
Now consider an event that brings a crowd that's twice as large – maybe bigger – that descends on the same small area It's an all-day event. Forget about space for a blanket or a picnic; everyone will be shoulder-to-shoulder.
That's what's coming on Saturday for the Josh Gracin concert that's being held in downtown Wausau. It's a free concert that the city should have said "no thank you" to.
Never mind that the concert isn't free to the city. It will cost about $3,500 in police and fire overtime for crowd control and to close some streets around downtown. I think the costs are minor for a large event. My question is does this event belong on the 400-Block? The answer is 'no'. The space isn't designed for a crowd of this size. That IS a city issue, after $1.4-million was spent to improve the block. (Most of the money to renovate the space was raised by a private fundraising effort. Some of it, including unpaid labor and utility work, came from the city.)
There are venues that could hold a crowd of this size: the Marathon Park grandstand, one of the fields at Wausau-East or Wausau-West high schools, maybe Athletic Park after a Woodchucks game. Granted those aren't as 'sexy' as downtown. So be it; the 400-block was reconfigured for events that could fit on it, not overwhelm it.
We've seen this before. New York's Central Park, which has hosted million-people-plus outdoor concerts in the past, was largely off-limits for a year while grass was re-sodded from overuse. Washington's National Mall looks more like a mud and sand-pit than a lush, green open space. It too is overwhelmed by too many events that brought in too many people.
The best events fit their venues. That won't be the case this Saturday. City leaders should have put the brakes on this concert. Too late now – on with the show! Please, don't trash the place.
Chris Conley
7/17/12