« back to Movies
Dead Man Down
Release Date: March 8, 2013
Genres: Suspense/Thriller
Cast: Noomi Rapace, Colin Farrell, Dominic Cooper, Terrence Howard, Armand Assante, Isabelle Huppert, Raymond Mamrak, Luis Da Silva Jr., James Biberi, Jennifer Butler
Directors: Niels Arden Oplev
Official Site: http://blooddemandsblood.com/
Distributor: FilmDistrict
"The director of the original "The Girl with the Dragon Tattoo", makes his American theatrical debut with the new action thriller, Dead Man Down. The film features two strangers who are irresistibly drawn to one another by their mutual desire for revenge."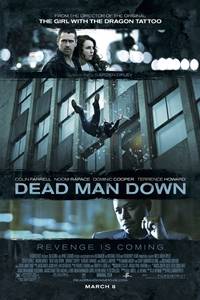 Show Times / Buy Tickets
There are no current showings for Dead Man Down in this area.