« back to Movies
Not Today
Release Date: None
Genres: Drama
Cast: Cody Longo, Walid Amini, John Schneider, Cassie Scerbo, Shari Rigby, Persis Karen
Directors: Jon Van Dyke
Official Site: http://www.nottodaythemovie.com/
Distributor: Freestyle Releasing
Traveling with his friends to Hyderabad, India on a whim, Caden's expectations of a never-ending party crash hard. But not as hard as his conscience when he refuses to help a starving man and his little girl. Haunted by the images of Kiran and Annika, Caden attempts to right his wrong - only to discover Kiran has been forced to sell his own daughter.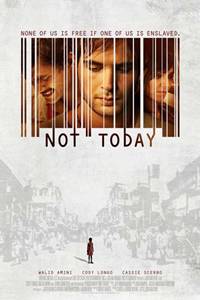 Show Times / Buy Tickets
There are no current showings for Not Today in this area.