« back to Movies
Coraline 3D
Release Date: Feb. 6, 2009
Genres: Animation, Family
Cast: Dakota Fanning, Teri Hatcher, Dawn French, Jennifer Saunders, Keith David, John Hodgman, Robert Bailey Jr., Ian McShane
Directors: Henry Selick, Mike Cachuela
Official Site: http://www.coraline.com/
Distributor: Focus Features
Coraline Jones is a girl of 11 who is feisty, curious, and adventurous beyond her years. She and her parents have just relocated from Michigan to Oregon. Missing her friends and finding her parents to be distracted by their work, Coraline tries to find some excitement in her new environment. Coraline seriously doubts that her new home can provide anything truly intriguing to her, but it does; she uncovers a secret door in the house. Walking through the door and then venturing through an eerie passageway, she discovers an alternate version of her life and existence.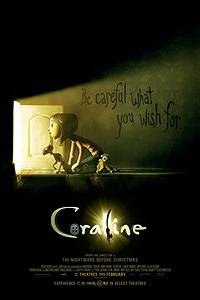 Show Times / Buy Tickets
There are no current showings for Coraline 3D in this area.