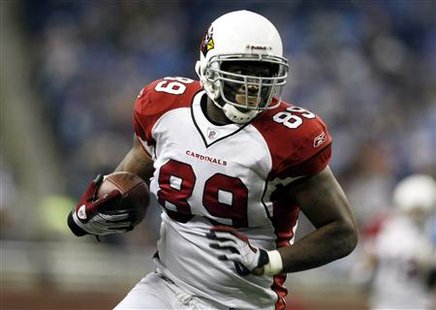 DETROIT (Reuters) - The Arizona Cardinals clinched the NFC West title and a playoff berth when they beat the Detroit Lions and the San Francisco 49ers lost to the Philadelphia Eagles on Sunday.
Kurt Warner connected with Anquan Boldin on a five-yard touchdown pass with 1:54 to play to give Arizona (9-5) a 31-24 win over Detroit (2-12) and back-to-back NFC West titles.
San Francisco (6-8) was beaten 27-13 by Philadelphia (10-4) to clinch a playoff berth for the Eagles.
The San Diego Chargers (11-3) also won a postseason spot on Sunday by defeating the Cincinnati Bengals (9-5) 27-24 on a last-second field goal to claim the AFC West title with their ninth consecutive win.
(Reporting by Gene Cherry in Salvo, North Carolina; Editing by Ian Ransom)