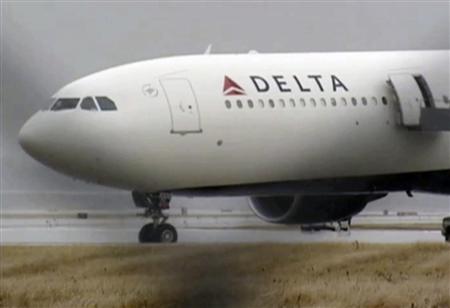 By Vicki Allen
WASHINGTON (Reuters) - There is no initial evidence that the Nigerian man charged with trying to blow up a U.S. passenger jet was involved in a larger plot, a senior U.S. official said on Sunday.
But al Qaeda involvement is a "subject of investigation" in Friday's incident, U.S. homeland security chief Janet Napolitano said after U.S. authorities on Saturday charged Umar Farouk Abdulmutallab, 23, with attempting to blow up the plane by setting alight an explosive device attached to his body.
The suspect, who was being treated for burns at a Michigan hospital, was overpowered by passengers and crew on the Northwest Airlines plane from Amsterdam on Christmas Day with almost 300 people on board.
"Well, right now we have no indication that it is part of anything larger. But obviously the investigation continues. And we have instituted more screening and what we call mitigation measures at airports," U.S. Secretary of Homeland Security Janet Napolitano told CNN's "State of the Union" program.
Asked whether al Qaeda was involved in the incident, Napolitano told ABC's "This Week" program, "That is now the subject of investigation, and it would be inappropriate for me to say and inappropriate to speculate. So we will let the FBI and the criminal justice system now do their work."
A senior U.S. official, speaking on condition of anonymity, said on Saturday authorities were looking at the possibility that Abdulmutallab had ties to al Qaeda in Yemen.
Abdulmutallab is due to make his first court appearance at 2 p.m. EST on Monday in federal court in Detroit on a motion from prosecutors to take a sample of his DNA.
Napolitano said U.S. authorities were reviewing current rules on who goes on official watch lists used to identify people who might pose security threats and was reviewing screening policies and technologies.
The U.S. government created a record of Abdulmutallab last month in the intelligence community's central repository of information on known and suspected international terrorists, a U.S. official said on Saturday. But there was not enough negative data to put him on a "no-fly" list, the official said.
The government needs "information that's specific and credible if you're actually going to bar someone" from air travel, Napolitano said on CNN.
'SYSTEM WORKED'
She also sought to reassure travelers, telling CNN, "The traveling public is very, very safe in this air environment," adding that "the system worked" to thwart a potential disaster.
"Everybody played an important role here. The passengers and crew of the flight took appropriate action," she said of the incident that occurred on Northwest Airlines flight 253, a Delta-owned Airbus 330. Delta Air Lines has taken over Northwest.
"The whole process of making sure that we respond properly, correctly and effectively went very smoothly," she said.
Airports and airlines in the United States and around the world have tightened security after the foiled attack. Security officials were investigating how Abdulmutallab had been able to get explosive materials onto the plane despite higher security worldwide since the September 11, 2001, hijacked airline attacks in the United States. Al Qaeda was held responsible for those attacks.
An initial FBI analysis found the device used by Abdulmutallab contained PETN, also known as pentaerythritol, one of the explosives carried by "shoe bomber" Richard Reid in his failed attempt to blow up a U.S. passenger jet just before Christmas in 2001, months after the September 11 attacks.
The device consisted of a six-inch (15-cm) packet of powder and a syringe containing a liquid, which were sewn into the suspect's underwear, according to media reports.
Abdulmutallab, the son of a respected Nigerian banker, started his journey in Nigeria's commercial hub of Lagos, where he boarded a KLM flight to Amsterdam before going through another security checkpoint while in transit at Schiphol airport, Dutch counter-terrorism agency NCTb has said.
The head of Nigeria's Civil Aviation Authority, Harold Demuren, said Abdulmutallab had been through the usual screening procedures at Lagos airport before boarding the KLM flight.
"The passenger did not check in any baggage but was spotted with a shoulder bag. He went through a normal screening and check-in process," Demuren said in a statement published in Nigerian newspapers on Sunday, citing CCTV footage.
He said Abdulmutallab was in possession of a multiple-entry U.S. visa issued in London on June 16, 2008, and due to expire in June 2010, which was scanned without the Advance Passenger Information System returning any objection.
Demuren said Nigeria had recently passed security audits by both the International Civil Aviation Organization and the America Transportation Security Audit.
Abdulmutallab was refused a visa to enter Britain in May 2009 when he tried to apply for a course at a bogus college, Britain's Sunday Times newspaper said.
Demuren said Abdulmutallab had purchased his $2,831 Lagos-Amsterdam Detroit return ticket at the KLM office in Accra, Ghana, on December 16 with a January 8, 2010, return date.
(Reporting by Will Dunham and Corbett Daly in Washington, Kevin Krolicki in Detroit, Nick Tattersall in Lagos and Rosalba O'Brien in London, editing by Jackie Frank)