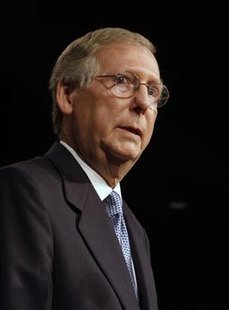 WASHINGTON (Reuters) - The U.S. Senate will not rush consideration of healthcare reform legislation sought by President Barack Obama, and lawmakers can expect a number of amendments, the chamber's top Republican said on Sunday.
"This will be on the floor for quite a long time," Senate Republican Leader Mitch McConnell told "Fox News Sunday" ahead of possible action this week on a procedural vote to bring the legislation up for debate on the Senate floor.
McConnell would not elaborate on a time frame for consideration or say whether the measure to reform the $2.5 trillion U.S. healthcare system could clear the chamber by the end of the year as President Barack Obama has said he hopes.
"There will be a lot of amendments over a lot of weeks. I mean, the Senate is not the House. You saw in the House three votes and it was over in one day," McConnell said.
The U.S. House of Representatives approved its version of the Democratic healthcare bill on November 7 by a narrow margin.
The Senate now must approve its own version, after which lawmakers would iron out the differences between the two bills. The House and Senate each then would have to pass the compromise legislation before sending it to Obama to sign.
"We know it's been in Harry Reid's office for six weeks and the other 99 senators have not seen it," McConnell said of the Senate healthcare bill, referring to the Senate majority leader. "I think we ought to at least have as much time for the other 99 senators and all of the American people to take a look at this bill as Majority Leader Reid has had."
"The only way to guarantee that for sure would be to delay the process to allow everyone to fully understand what's in the bill," McConnell said.
Securing passage of healthcare reform legislation is Obama's top domestic priority. Democrats have accused Republicans of working to delay the measure as long as possible.
Republicans have opposed the cost and scope of the legislation in Congress, with some Republicans saying defeating the measure could inflict serious political damage on Obama.
Dick Durbin, the No. 2 Democrat in the Senate, told reporters last week the goal for action is this year. But he said lawmakers would "get it done" even if that deadline slips.
Democrats hold 60 seats in the 100-member Senate. Supporters need at least 60 votes to overcome any procedural hurdles throughout the process.
Backing from all Democrats on key issues is not a certainty, meaning supporters could need help from Republicans to get the bill through.
(Reporting by John Crawley; Editing by Will Dunham)