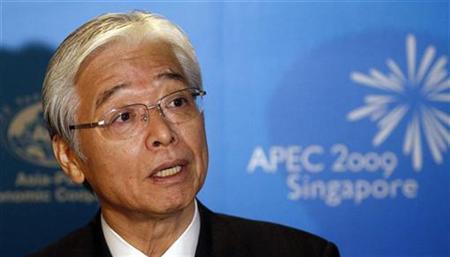 By Tetsushi Kajimoto
TOKYO (Reuters) - Japan's trade minister apologized on Monday for disclosing market-sensitive GDP figures in a speech to business executives ahead of their official release, raising questions about the new government's handling of sensitive information.
The third-quarter growth figures were much stronger than expected and caused Japanese bond prices to dip, although they later recovered as analysts warned the outlook less than rosy.
Trade Minister Masayuki Naoshima said he mentioned the GDP figures in a speech to oil industry officials just after 8 a.m. because of concerns about the economy and did not know the data had not yet been announced, suggesting he assumed it had already been released.
"I'm sorry. I honestly didn't know it was due to be released at 8:50 a.m. so I thought it would be OK to talk about it," Naoshima told reporters.
The figures showed Japan's economy grew 1.2 percent in the third quarter, its fastest pace in more than two years as government stimulus steps lifted consumer spending and capital spending bottomed out.
It was the first GDP data released since Prime Minister Yukio Hatoyama's new government took office in mid-September after an August election that ousted the long-dominant Liberal Democratic Party.
"They still haven't got out of the habit of being an opposition party," said Kyohei Morita, chief economist at Barclays Capital Japan, adding that Hatoyama's Democratic Party needed to learn more about communicating with financial markets.
Chief Cabinet Secretary Hirofumi Hirano, speaking before Naoshima's apology, downplayed suggestions that the minister should resign but acknowledged the incident could cast doubt on the government's ability of handling sensitive information.
Leaks of GDP are not new in Japan.
The previous government under the LDP became more careful in handling GDP after a newspaper reported the figures ahead of their release a decade ago, forcing policymakers to confirm them.
"He (Naoshima) was lucky the incident didn't affect markets, but it's clear he lacked a sense of awareness ... It is so embarrassing," Morita said.
Japanese media were covering the meeting, but a government official said it appeared that the figures were not reported before the official release time.