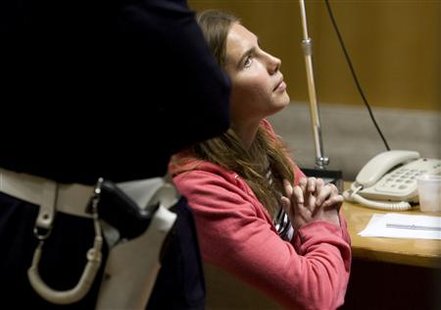 PERUGIA, Italy (Reuters) - Italian prosecutors on Saturday called for a life sentence for American university student Amanda Knox and her Italian ex-boyfriend Raffaele Sollecito for the 2007 murder of Briton Meredith Kercher.
Knox, 22, is accused by prosecutors of instigating the killing in the central Italian university town of Perugia out of hatred for Kercher, with whom she shared an apartment.
They allege Sollecito and another man, Ivorian Rudy Guede, took part in the November killing two years ago to please Knox.
Summing up their case against the accused, prosecutors called for a punitive period of nine months of solitary confinement for Knox and two months for Sollecito.
"Meredith was my friend, I didn't hate her. It's absurd to say that I wanted revenge on a friend who had been very kind to me," Knox said, after the prosecutors announced their request.
Sollecito has also denied any involvement in the killing. The court's verdict is expected in early December, after the defense closes its case.
Guede, who fled to Germany after the killing, has already been sentenced to 30 years in prison for his part in the murder of Kercher, who was found half naked in her bedroom with her throat slashed.
He is appealing the conviction and accuses Kercher and Sollecito of being responsible.
(Editing by Matthew Jones)