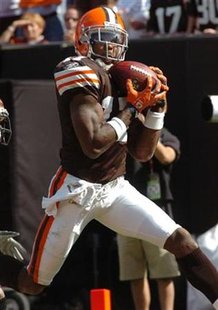 NEW YORK (Reuters) - The New York Jets have reached an agreement to bring in wide receiver Braylon Edwards from the Cleveland Browns, the team said on Wednesday.
Wide receiver Chansi Stuckey and linebacker Jason Trusnik will move to the Browns as part of the trade which also includes undisclosed draft choices.
"We are excited to have him," said Jets general manager Mike Tannenbaum, "I think he is going to help us be a winning football team."
Edwards had made a disappointing start to the season with just 10 catches for 139 yards so far and is under investigation by the NFL following a nightclub incident in Cleveland on Sunday night.
The receiver made his name in the 2007 season when he caught 80 passes for 1,289 yards but he has since been unable to match those numbers.
Stuckey has started three of the Jets' four games this season and is reunited with former Jets head coach Eric Mangini, now with the Browns.
Also on Wednesday, the San Francisco 49ers announced they had signed first round draft choice Michael Crabtree, another wide receiver, to a six-year contract.
Negotiations between Crabtree and the 49ers had been ongoing since the draft but reached a stalemate and there were reports the player planned to return to the draft next year.
The two-time All-America and Big 12 selection finished his two year career with Texas Tech with 3,127 receiving yards, breaking the previous team record set by Wes Welker.
(Reporting by Simon Evans in Miami; editing by Justin Palmer)