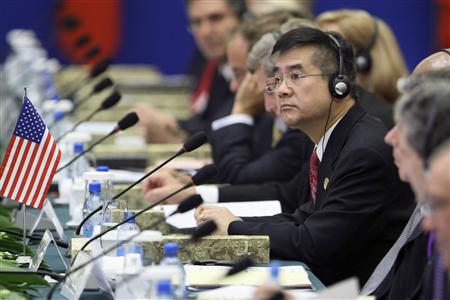 By Roberta Rampton and Lucy Hornby
WASHINGTON/HANGZHOU, China (Reuters) - China pledged to lift its ban on U.S. pork on Thursday and the United States took a step toward easing restrictions on chicken imports as the two superpowers agreed to tackle a series of trade irritants.
The flurry of trade accords between China and America comes ahead of President Barack Obama's visit to China in mid-November to reach agreements on currency, the environment and trade with its second-largest trading partner and the largest foreign holder of its government debt.
China's promise on pork sent U.S. hog futures higher on Thursday and also lifted the stock of Smithfield Foods Inc, the largest U.S. hog and pork producer.
"We're going to work through whatever details remain to try to get this done as expeditiously as possible," U.S. Agriculture Secretary Tom Vilsack told Reuters during a telephone interview from Hangzhou, where the countries held trade talks.
China is a top buyer of U.S. meat, chicken, soybeans and other products, purchasing $560 million worth of pork in 2008. China imposed the ban on U.S. pork five months ago following the outbreak of the H1N1 flu virus, also known as swine flu. The disease cannot be caught by eating pork.
China's Agriculture Minister Sun Zhengcai did not say when he would announce a formal end to the pork ban.
"He didn't put a specific timeline on it, but as you know President Obama is coming to China in a couple of weeks, and I don't know whether that is part of their calculation or not," Vilsack said.
China's willingness to lift its pork ban was not related to the recent move by Congress to end its ban on imports of Chinese poultry products, Vilsack said.
"I asked Minister Sun that specific question, and he was very emphatic in indicating that there's no connection," he said.
But Vilsack said his department will soon begin the process to review China's food safety laws and poultry plants with an eye to allowing U.S. imports of poultry meat.
Vilsack said officials did not discuss China's recent anti-dumping investigation into U.S. chicken exports.
News that China would scrap the ban sent U.S. hog futures at the Chicago Mercantile Exchange up 2 percent early Thursday. Hog futures have fallen about 40 percent after hitting a high of 90 cents per lb in August 2008 amid high prices for feedstock, the recession blunting demand and the H1N1 flu.
Shares of Smithfield Foods Inc rose as much as 5 percent to $13.92 per share Thursday morning at the New York Stock Exchange.
BEEF ISSUES REMAIN
While making progress on pork and chicken, China and the United States are still at odds over beef.
China has banned U.S. beef imports since the United States found its first case of mad cow disease in 2003.
"I think there's still work to be done" on the beef issue, Vilsack said, noting talks focused on pork and poultry trade.
"I think we have to be creative. I think we have to put something on the table (on beef trade) for the Chinese to respond to, and we intend to do that very quickly," he said.
Vilsack said he had established "a good personal chemistry" with Sun during the talks.
"We're going to try to build on the momentum that was created during this meeting" to focus on other outstanding farm trade issues, he said.
(Additional reporting by Bob Burgdorfer in Chicago; Writing by Lisa Shumaker; Editing by Russ Blinch)