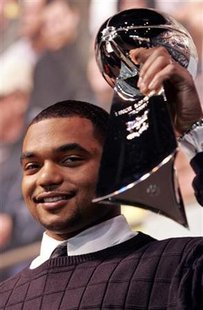 BOSTON (Reuters) - Five-time Pro Bowl defensive lineman Richard Seymour has been traded by the New England Patriots to the Oakland Raiders, the teams said Sunday.
New England will receive a first-round pick in the 2011 draft in exchange for the nine-year veteran, the Patriots said on their website (www.patriots.com).
Seymour, 29, was a first-round draft pick by the Patriots in 2001 and started 105 of 111 games during eight seasons with New England.
"He will be an end that will play some tackle," Raiders coach Tom Cable told reporters. "We are getting a quality player that has done a lot, both as a run player and a pass rusher."
Also Sunday, the Philadelphia Eagles released veteran quarterback A.J. Feeley, a day after the Eagles put quarterback Michael Vick on the exempt/commissioner permission list so they could keep Feeley on their roster.
Vick, who was released from prison in May after serving 23 months for bankrolling a dog fighting ring, will not be able to practice with the team as long as he is on the list.
He is suspended for the first two games of the regular season but will be eligible to play in week three.
(Reporting by Gene Cherry in Raleigh, North Carolina; Editing by Greg Stutchbury)