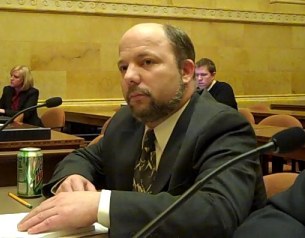 PORTAGE, Wis. (WTAQ) - State Representative Jeff Wood reported to the Columbia County jail Monday night to begin his 45 day sentence for drunk driving. But there's still a chance he'll serve his time at home in Chippewa Falls under electronic monitoring.
Wood was convicted last week on the most serious of his 3 OWI offenses from the past 17 months. Although it happened in Columbia County, Sheriff Dennis Richards said Wood will serve the term in his home county of Chippewa – where Sheriff James Kowalczyk will decide this week if Wood can leave his cell for work release or home monitoring.
WKOW-TV in Madison said the independent lawmaker arrived at the jail in Portage about 10 minutes before he was scheduled to report. And he called the station's reporter a "vulture" for being there. Wood ignored the question of what he wanted to tell his constituents. He later said he might have done an interview with a reporter from the northwest Wisconsin Assembly district he's represented since 2003.
Wood lost his driver's license for 2 years, and was fined $1,600. When asked if he drove himself to jail Monday evening, Wood told WKOW, "Yeah, that's my car over there, moron." Wood still faces charges of driving under the influence of medications in Marathon and Monroe counties. He is not running for re-election this fall.