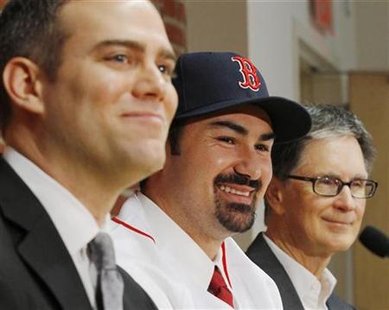 BOSTON (Reuters) - Power-hitting first baseman Adrian Gonzalez officially joined the Boston Red Sox Monday as the club introduced him at Fenway Park after finalizing a deal to send three minor league prospects to the San Diego Padres.
In exchange for Gonzalez, the Padres received right-handed pitcher Casey Kelly, first baseman Anthony Rizzo, outfielder Reymond Fuentes and a player to be named.
The 28-year-old Gonzalez, a San Diego native, hit .298 with 31 homers and 101 runs batted in last season and has a smooth, opposite-field, left-handed stroke that could help him excel at banging balls off the Green Monster wall at Fenway.
The deal had been put on hold Sunday when Gonzalez and the Red Sox failed to reach agreement on a contract extension by a deadline imposed by Major League Baseball.
Gonzalez, who will earn $6.2 million in 2011 under his old contract, and the Red Sox are confident they will be able to hammer out details for a long-term deal.
"I'm very excited," Gonzalez told a news conference, major league website mlb.com reported. "I've had five incredible years in San Diego. As I grew up, my whole dream as a kid was to be a Padre.
"My second dream was to be on the Red Sox. ... I'm just very excited to start this new phase. I look forward to a lot of championships."
Three-time All-Star Gonzalez said Sunday's negotiations were a rollercoaster ride.
"It was very emotional ... up and down," Gonzalez said. "I'm very excited that everything was able to be worked out.
"I'm very excited to be here in Boston and ready to beat the Yanks."
Boston is expected to move Kevin Youkilis, their starting first baseman the last five years, across the diamond to third base.
Shifting Youkilis would mean the end of Adrian Beltre's short but productive tenure at the hot corner for the Red Sox. Beltre, an All-Star last season, is a free agent this winter.
(Writing by Larry Fine in New York, Editing by Steve Ginsburg)