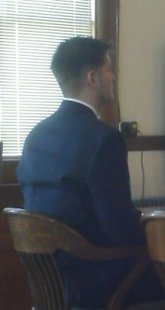 MERRILL, Wis. (WSAU) – An Antigo man has pled guilty to a Tomahawk woman's heroin overdose last spring.
Kevin Krugel entered the plea Friday morning to recklessly causing Nicole Hedges' death May 2nd. In return, a judge dismissed but can consider a delivery of heroin charge at Krugel's sentencing in mid to late April.
Prosecutors will cap their recommendation that Krugel serve three years in prison and five years on extended supervision.
An eyewitness testified that Krugel admitted giving the drug to the 29-year-old Hedges. She snorted it in a Merrill park and was found dead hours later at the HAVEN domestic violence shelter.
Krugel will remain free on bond pending sentencing. But Judge Glenn Hartley ordered Krugel to keep wearing an electronic monitoring bracelet and comply with a home curfew.
Krugel will also continue to testify against Richard Crayton, the dealer he got the drug from, who is charged in federal court.
Crayton is scheduled to go on trial at the end of May.