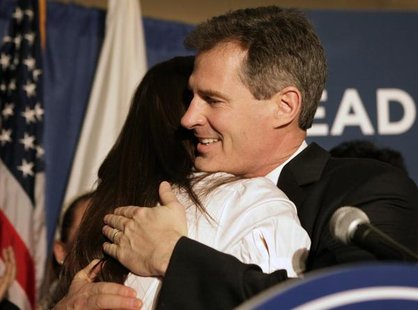 By Thomas Ferraro
WASHINGTON (Reuters) - U.S. Senator John Kerry on Thursday called for the seating of Republican Senator-elect Scott Brown "as expeditiously as possible."
In meetings with lawmakers in Congress, Brown said he might be sworn in as Massachusetts' first Republican senator since 1972 sometime next week. A senior Democratic aide said that timeframe was possible.
Brown will be the 41st Republican in the 100-seat Senate and he could provide the crucial vote to potentially block President Barack Obama's agenda in the Senate, including healthcare reform.
Opposition to the healthcare legislation was a key issue in Brown's upset victory in Massachusetts on Tuesday, when he won the seat formerly held by the late Senator Edward Kennedy, a Democratic icon.
Brown has said he is open to working with Democrats as well as Republicans on healthcare and other matters.
"People want me to be part of the process and part of the solution," Brown told reporters during a visit with Republican Senator John McCain.
Kerry, the senior senator from Massachusetts, said he favors "seating Brown as expeditiously as possible."
Before Tuesday's election, state officials in Massachusetts said it would take about 15 days to certify the results and clear the way for Brown's swearing in. But others have suggested it could be done quicker, noting that Kennedy took office on November 7, 1962, a day after he won a special election to succeed his brother John.
(Editing by Paul Simao)