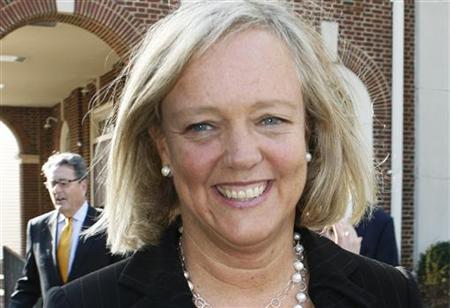 SAN FRANCISCO (Reuters) - Former EBay Inc Chief Executive Meg Whitman has grabbed a lead of 28 percentage points in the race for the Republican nomination to succeed Arnold Schwarzenegger as California governor, a poll showed on Friday.
The Field Poll survey found Whitman ahead of State Insurance Commissioner Steve Poizner, 45 percent to 17 percent, with 38 percent of likely voters in the Republican primary undecided. The Republican primary is set for June 8.
"She has improved her image rating among both Republicans and nonpartisans," said Field Poll Director Mark DiCamillo.
DiCamillo added that former U.S. Representative Tom Campbell's departure last week from the race for the Republican gubernatorial nomination in order to run for the U.S. Senate against Democrat Barbara Boxer helped Whitman.
Whitman still trails Democratic Attorney General Jerry Brown when paired against him but is closing the gap with an advertising blitz on California's airwaves. "They're running without any competing ads," DiCamillo said.
Brown leads Whitman 46 percent to 36 percent, compared with his 50 percent to 29 percent lead in an October poll. Brown also leads Poizner 48 percent to 31 percent, compared with 50 percent to 25 percent in October.
The new poll, conducted from January 5-17, involved telephone questioning of 958 likely voters in California's general election and 202 likely voters in the Republican primary.
The general election survey had a margin of error of plus or minus 3.3 percentage points and the Republican primary survey had a margin of error of plus or minus 7.1 percentage points.
Brown, a former governor of California, is the only remaining prominent Democrat running for governor but has yet to formally declare himself a candidate.
The Republican Schwarzenegger cannot run again because of term limits.
(Reporting by Jim Christie; Editing by Will Dunham)