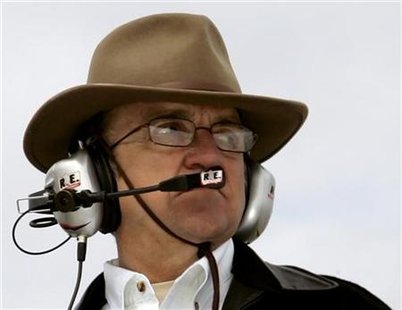 DETROIT (Reuters) - NASCAR team owner Jack Roush was in serious but stable condition one day after a business jet he was piloting crash-landed at an airport in Oshkosh, Wisconsin, his spokeswoman said on Wednesday.
"None of his injuries are life-threatening," Lori Halbeisen said.
The crash occurred at Wittman Regional Airport around 7:15 p.m. EDT (2315 GMT) on Tuesday, according to a statement from Roush Fenway Racing, which Roush owns with John Henry, the owner of the Boston Red Sox baseball team.
Roush, who had been set to attend the annual EAA AirVenture show in Oshkosh, walked away from the accident, Halbeisen said.
He was taken to a hospital and was listed in stable condition, according to the racing team and EAA Aviation Center.
A passenger in the Hawker Beechcraft Premier jet, Brenda Strickland, also suffered non-life threatening injuries.
The National Transportation Safety Board was investigating the accident.
An experienced pilot who owns three planes, Roush suffered serious injuries in a plane crash in Alabama in 2002, when the aircraft he was flying crashed into a lake.
Roush, 68, began his career in 1964 as an engineer for Ford Motor Co. He formed Jack Roush Performance Engineering, a precursor of Roush Industries, in 1976 and Roush Racing in 1988. Henry's Fenway Sports Group bought a 50-percent stake in the race team in 2007.
Roush Fenway Racing operates eight motorsports teams, including such drivers as Matt Kenseth, Greg Biffle and Carl Edwards in the NASCAR Sprint Cup Series.
(Reporting by Ben Klayman; Editing by Xavier Briand)