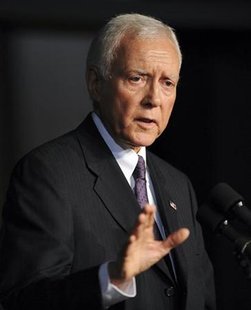 WASHINGTON (Reuters) - Republican senators urged President Barack Obama on Tuesday to lay out a "specific timeline" for winning approval of long-delayed free trade agreements with Colombia, Panama and South Korea.
"The immediate consideration of these FTAs has never been so important," Senator Orrin Hatch and 15 of his colleagues said in a letter touting the "significant" job gains that could come from the pacts.
The deals have been on Obama's desk since he took office in January 2008 and he appears unlikely to send them to Congress before the November mid-term elections.
They were negotiated during the tenure of his predecessor, George W. Bush, who was unable to persuade the Democratic-run Congress to ratify the pacts.
Obama has said he wants to fix problems with the deals, but has resisted setting any deadlines for action.
"We respectfully request that your administration provide, on an expedited basis, to Korea, Colombia and Panama a well-defined and finite list of those particular outstanding issues to be accomplished and provide Congress with a proposed specific timeline for the enactment of these FTAs once those articulated matters are resolved," the senators said.
They argued quick action is needed because the United States risks losing exports to competitors such as the European Union and Canada, which have struck their own trade deals with one or more of the three countries.
Many Democrats oppose the agreements, making it unlikely Obama could win their approval without a major and divisive fight within his own party.
The Obama administration says it wants South Korea to make changes to its agreement that would open the Korean market to more American cars.
It has called on Colombia to do more to stop violence against trade unionists and to prosecute those responsible.
It has pressed Panama to reform its bank secrecy laws and strengthen its labor regime.
(Reporting by Doug Palmer; Editing by Sandra Maler)