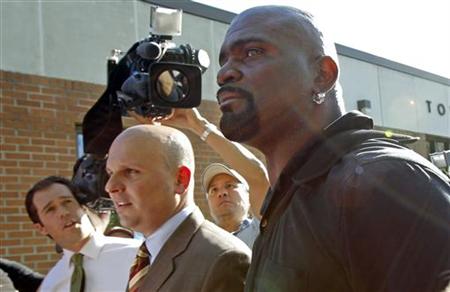 NEW YORK (Reuters) - Former NFL great Lawrence Taylor was indicted on a number of sexual assault charges on Wednesday on suspicion of having sex with a 16-year-old girl for money in a suburban New York hotel earlier this year.
A grand jury in Rockland County formally accused Taylor of rape, criminal sexual act, two counts of sexual abuse and patronizing a prostitute, all in the third degree, prosecutors said in a statement. Taylor was also indicted on a charge of endangering the welfare of a child.
The 51-year-old member of the Pro Football Hall of Fame denied all the charges following his arrest in May and his defense lawyer vowed to fight them.
The indictment alleges Taylor paid $300 to have sex with the underage girl during the early hours of May 6 at a hotel in Montebello, about 25 miles north of New York City.
Taylor, a former linebacker known as "LT," was one of the most dominating defensive players in the National Football League, starring with the New York Giants from 1981 to 1993.
Following his retirement, Taylor was arrested three times for drug-related offenses before entering a rehabilitation program and proclaiming his drug and alcohol troubles were in the past.
Police found no evidence of drug or alcohol abuse in the hotel room and said Taylor had cooperated with authorities.
A local politician told reporters in May that the girl had been reported by her uncle as a runaway in March. A man police described as her pimp was arrested in New York City in May.
"The defendant in this case is the end-user in the criminal chain known as sex trafficking," District Attorney Thomas Zugibe said in a statement. "Any effort to successfully combat this epidemic must confront not only the supply of vulnerable young women, but the demand which perpetuates this unsavory and illegal activity."
If convicted, Taylor faces a maximum of four years in prison, according to the statement.
(Reporting by Daniel Trotta; Editing by Frank Pingue)