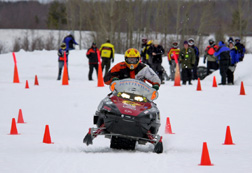 MADISON (WSAU) Wisconsin's night-time speed limit for snowmobiles would be made permanent under a bill that's up for a vote in the state Assembly today. A temporary limit of 55 was imposed three years ago, and it's due to expire on July first.
Supporters say the speed limit has helped reduce the number of snowmobile deaths in Wisconsin. It was adopted after a one-year test in the winter of 2000, when the number of deaths dropped from 39-to-26. Twenty-six riders were killed in Wisconsin last winter, and at least 20 have died in crashes this season.
A major snowmobile group supports a permanent 55-night-time speed limit – and observers expect passage with support from both parties.