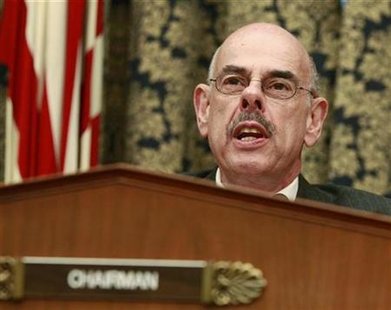 WASHINGTON (Reuters) - The U.S. Congress stands ready to write new telecommunications policy, if needed, after a court ruling threw into doubt the government's ability to move forward with an ambitious broadband plan, two leading Democratic lawmakers said on Wednesday.
Representative Henry Waxman and Senator John Rockefeller said the Federal Communications Commission should also consider short-term options, including a controversial idea to reclassify broadband under a stricter regulatory regime but at the same time apply "a light regulatory touch."
The lawmakers said in a letter to the FCC that it is vitally important that the agency be empowered to move forward with its National Broadband Plan, unveiled earlier this year.
In the last several weeks FCC Chairman Julius Genachowski and his top advisers have been huddling to decide how to thread the broadband needle: how to move forward with broadband policy and avert legal action by the big telecom and cable companies.
The letter from the chairmen of their respective congressional committees might be the political cover the FCC needs to make a final decision on how to proceed with broadband policy.
FCC spokeswoman Jen Howard declined to comment.
"The letter does seem to have a reclassification tilt," said Paul Gallant, an analyst with Concept Capital.
The FCC's broadband plan would upgrade Internet access for all Americans and shift spectrum from television broadcasters to wireless carriers with burgeoning smart phone products.
It also would try to safeguard consumer privacy, provide consumers with complete and accurate information about broadband services and protect an open Internet.
"To accomplish these objectives, the Commission should consider all viable options. This includes a change in classification, provided that doing so entails a light regulatory touch, with appropriate use of forbearance authority," Waxman and Rockefeller wrote to the FCC.
Reclassification would mean putting broadband under an existing set of rules governing telephone services rather than its current status as a lightly regulated information service.
For broadband providers, the option could mean more restrictions on pricing and having to share lines with competing Internet service providers.
The big players in the industry -- AT&T Inc, Verizon Communications Inc and Comcast Corp, the biggest U.S. cable provider -- fear reclassification would be overly burdensome.
"This is a clear indication that congressional leadership supports the goal of universal, affordable, high-speed Internet access for all Americans -- and that (reclassifying) broadband transmission ... is the best path to get there," said Josh Silver, president of Free Press, a public interest group.
In the longer term, the lawmakers said that if there were a need to craft a new telecommunications policy, Congress would do so.
"We believe both Congress and the Commission have roles to play in fostering the rapid deployment and dissemination of broadband across the country," the letter said.
Last month, a U.S. appeals court panel ruled the FCC had failed to show it had the authority to stop Comcast Corp from blocking online applications for distributing television shows and other large, bandwidth-hogging files.
The FCC acknowledged the ruling does question its authority over broadband, but it vowed to press ahead.
(Reporting by Karey Wutkowski and John Poirier, editing by Gerald E. McCormick)