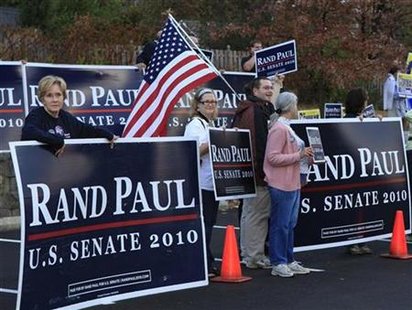 WASHINGTON (Reuters) - Republican Rand Paul, a favorite among the conservative Tea Party movement, won a Senate seat in Kentucky on Tuesday over Democrat Jack Conway, NBC and CNN projected.
The victory preserves a Republican Senate seat Democrats had hoped to win and staunch expected losses elsewhere in the congressional elections.
He will replace retiring Republican Senator Jim Bunning.
Paul, a practicing ophthalmologist and the son of libertarian Republican Representative Ron Paul, had received early backing by the Tea Party movement, which has pushed an agenda for lower taxes and limited government.
(Reporting by Jeremy Pelofsky; Editing by Eric Beech)