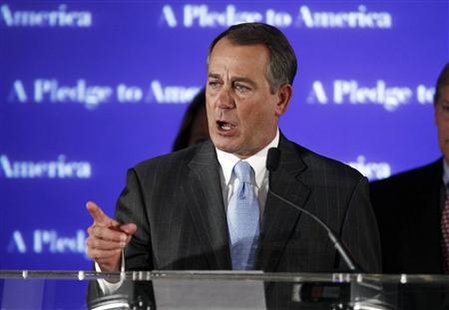 By Richard Cowan and Kim Dixon
WASHINGTON (Reuters) - U.S. House of Representatives Republican leader John Boehner on Wednesday placed lower government spending at the top of Congress' agenda next year, a day after his party took control of the House.
"It's pretty clear the American people want us to do something about cutting spending here in Washington and helping to create an environment where we'll get jobs back," Boehner told reporters.
Republicans picked up at least 60 seats in Tuesday's elections to hold a solid majority in next year's House. Boehner is expected to get the top job of House speaker, supplanting Democrat Nancy Pelosi.
With last year's U.S. budget deficit at a whopping $1.29 trillion, equal to 8.9 percent of gross domestic product, voters have been clamoring for smaller, less expensive government.
Some economists fear that politicians could pare spending too much and wind up stifling economic growth, while others have called for more stimulus spending to boost tepid economic growth that has failed to significantly reduce unemployment that remains stuck near 10 percent.
Embracing the small government theme, House Republicans have promised to rein in government. In September, they said their first step would be to cut Washington's spending back to 2008 levels, achieving $100 billion in savings immediately -- a move that would do little to sop up the red ink on the ledger.
Republicans have also been pushing for bigger tax cuts than President Barack Obama wants, which would add more to the federal debt than would Democratic tax-cut proposals.
During remarks to reporters on Wednesday, Boehner refused to go into detail on the spending cuts he would seek. Asked for the No. 1 spending cut on his list, the Ohio Republican would only say: "We'll make a lot of decisions over the coming months."
He later repeated his call to freeze spending at 2008 levels.
"I believe that operating under the 2008 levels of spending, before the bailouts, before the stimulus, is a responsible way forward," Boehner said at Republicans' first press conference to talk about priorities.
The first fight in Congress on spending priorities will be over the fiscal 2011 funding for across-the-board government activities. The debate over priorities for the fiscal year, which began on October 1, could resume as early as November 15, when the current Congress holds a post-election work session.
But if the outgoing Congress cannot reach a deal, spending priorities for the rest of the fiscal year will be fought out in January or February, after Republicans take control of the House from Democrats and a larger bloc of Republicans joins a Senate still under Democratic control.
BUSH TAX CUTS
The second major fight will be over the broad tax cuts that Republican President George W. Bush won nearly a decade ago that will expire at the end of this year if Congress does not act.
Republicans favor fully extending the lower rates for all Americans, while Obama and most Democrats back renewing them only for individual annual income up to $200,000 and family income up to $250,000.
Although Boehner ahead of the elections said he would accept a temporary extension of the rates for the wealthiest Americans, setting up a potential compromise with the administration, he has since pushed for a permanent extension.
At a press conference on Wednesday, Boehner said: "We continue to believe that extending all of the current tax rates for all Americans is the right policy for our economy at this time." He did not elaborate when asked whether he would consider any compromise.
Because taxes are levied marginally, an individual making $250,000 would only pay the highest rate on income above the $200,000 threshold.
Lower tax rates on dividends and capital gains for high earners also would expire at year's end unless Congress extends them.
"It comes down fundamentally to a question of: Are Republicans willing to cut a deal on tax issues with Democrats to get them off the table temporarily, or whether they think they can get a better deal in January and February," said Clint Stretch, tax principal at Deloitte Tax and a former congressional staffer.
Wall Street until recently had been counting on a compromise, but in recent weeks many analysts said the prospect of inaction on the tax issues before January is rising.
For a deal on taxes, Obama would have to compromise as well, backing off earlier opposition to maintaining lower rates for income above what he calls the middle class.
(Editing by Will Dunham and Leslie Adler)