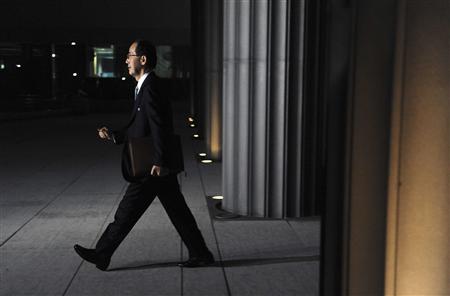 WASHINGTON (Reuters) - Bank of Japan Governor Masaaki Shirakawa on Sunday warned that an extension of unprecedented monetary easing policies by advanced nations for too long carries risks, and loose policy alone will not fix structural economic problems.
Unless excesses built up during the bubble period are resolved, Shirakawa said, it will take a fairly long time for advanced economies to return to a full-fledged recovery despite unprecedented policy efforts.
Sustaining very easy monetary policies for too long could create another bubble and sow the seeds of a crisis, he said, warning of the risks of relying solely on quick-fix stimulative measures.
"Although easy monetary policy is needed, it alone cannot solve the problem," Shirakawa said in a speech to the Institute of International Finance.
And if strong growth in emerging countries turns into an asset bubble, it could end up having consequences on both emerging and advanced economies, he said.
"A crisis comes to the surface with a different face every time," Shirakawa said.
The BOJ surprised markets on Tuesday by pushing down interest rates to zero and pledging asset purchases to pump more money into Japan's struggling economy.
The Federal Reserve, the European Central Bank and the Bank of England also have extremely accommodative monetary policies in place.
Expectations the Fed will step back into the markets next month to buy more bonds to support the anemic U.S. recovery pushed the dollar down to a 15-year low against the yen on Friday.
With investors looking for better returns, emerging market currencies have soared. The flood of monetary into developing economies has sparked fears of growing asset bubbles.
(Reporting by Leika Kihara; Editing by Leslie Adler)