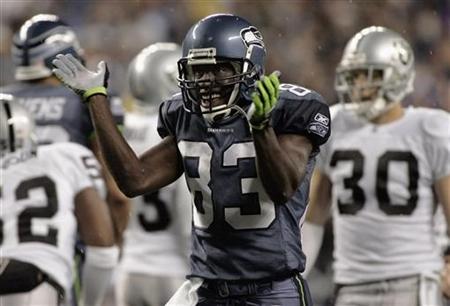 BOSTON (Reuters) - Wide receiver Deion Branch has returned to the New England Patriots in a trade with the Seattle Seahawks, the Patriots confirmed Tuesday.
The Seahawks will receive a future draft choice for the 31-year-old Branch, who was traded to Seattle in 2006, New England said on its website (www.patriots.com).
His return gives New England a much-needed replacement for seven-time Pro Bowl receiver Randy Moss, who was traded to the Minnesota Vikings last week.
Branch originally was selected by New England in the second round of the 2002 draft and helped the Patriots win two Super Bowls.
He was named the Super Bowl MVP for the 2004 season after tying a record with 11 catches for 133 yards as the Patriots defeated the Philadelphia Eagles 24-21.
Branch also had a team-high 10 receptions for 143 yards and a touchdown in the Patriots' 32-29 Super Bowl victory over the Carolina Panthers a year earlier.
This season, he has caught 13 passes for 112 yards and one touchdown in four games with Seattle.
Over his nine-year NFL career, Branch has 403 catches for 5,091 yards and 29 touchdowns.
The Patriots also announced offensive tackle Nick Kaczur on injured reserve with a back injury.
(Reporting by Gene Cherry in Raleigh, North Carolina., Editing by Steve Ginsburg)