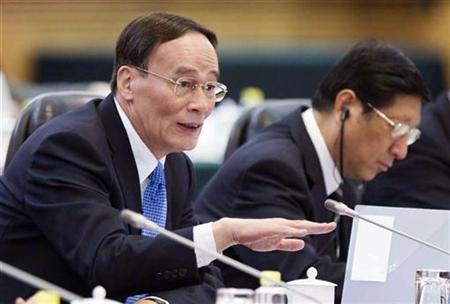 SHANGHAI (Reuters) - China and the United States must nurture their relationship and ensure trade and economic issues do not become politicized, Chinese Vice Premier Wang Qishan was quoted as saying on Thursday.
"The two nations should further enhance understanding and mutual trust to avoid politicizing economic and trade issues," Wang told former U.S. Secretary of State Madeleine Albright in Beijing, the official Xinhua news agency said.
U.S.-China relations are "moving forward through difficulties," Xinhua quoted him as saying.
Pressure has grown over the value of China's currency, the yuan <CNY=CFXS, which was released from a de facto peg to the dollar in June and has been gradually appreciating in the past few weeks.
U.S. lawmakers have threatened punitive duties on some Chinese exports to the United States if the currency does not rise significantly in value.
The Treasury Department is due in the coming days to decide in a semi-annual report on exchange rate practices whether to formally label China a currency manipulator, a designation that would anger Beijing.
Wang added that China would not reverse its policy of opening up its economy and said the investment environment would be improved, Xinhua said. There has been concern among some foreign businesses that China's reforms have stalled.
Earlier this week, China canceled trade talks in Shanghai with a Norwegian minister after the Norwegian Nobel Committee awarded the Peace Prize to jailed dissident Liu Xiaobo.
(Reporting by Jason Subler; editing by Andrew Dobbie)