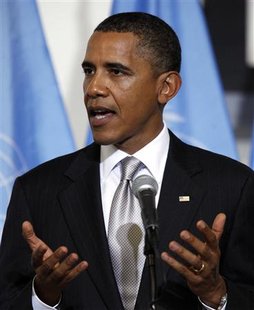 By Jeff Mason
WASHINGTON (Reuters) - President Barack Obama hammered Republicans on Saturday over their newly unveiled campaign agenda, calling the opposition party's economic ideas "an echo of a disastrous decade we can't afford to relive."
In his weekly radio and Internet address, Obama, a Democrat, said Republican plans to roll back healthcare reform and extend Bush-era tax cuts for top U.S. earners would not fix the nation's economic woes.
Republicans, in turn, called Obama's policies disastrous, too, and promised to address "dire" economic conditions more effectively if they take over one or both houses of Congress after the November elections.
Republicans in the House of Representatives on Thursday published their agenda to create jobs, cut taxes and shrink government in anticipation of big gains in the November 2 polls.
They hope it will resonate with Americans upset about near double-digit unemployment and ballooning budget deficits.
The White House has sought to paint Republican ideas as remnants from former President George W. Bush's years in office -- a period which Obama's team stresses led to the dreary economic conditions it inherited at the beginning of 2009.
Obama continued that critique with his appraisal of the Republicans' "Pledge to America" plan.
"It is grounded in (the) same worn out philosophy: cut taxes for millionaires and billionaires; cut the rules for Wall Street and the special interests; and cut the middle class loose to fend for itself," Obama said, according to a text of his address.
"That's not a prescription for a better future. It's an echo of a disastrous decade we can't afford to relive."
Representative Kevin McCarthy, delivering the Republicans' weekly address, said his party was listening to discontent throughout the electorate and blamed Obama's policies for the country's economic plight.
"As a result of the economically disastrous policies of the current administration, millions of Americans are out of work today, and our children will be saddled with a deficit and debt that is, by every definition, out of control," he said.
"From the billion-dollar bailouts to the 'stimulus' package that failed to stimulate to the government takeover of health care, you cried 'Stop!' -- but the Democratic majority in Washington has refused to listen."
Obama said Republican proposals showed they were the ones not listening to voters' desires.
"And for all their talk about reining in spending and getting our deficits under control, they want to borrow another $700 billion, and use it to give tax cuts to millionaires and billionaires," he said. Republicans argue that extending the tax cuts would prevent what would otherwise be a tax hike in the midst of a rough economy.
(Reporting by Jeff Mason; Editing by Paul Simao)