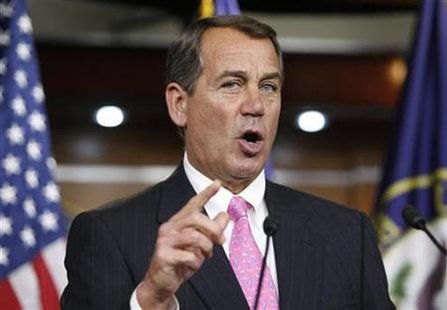 WASHINGTON (Reuters) - The top Republican in the House of Representatives said on Sunday that Congress should settle the issue of whether to extend tax cuts now rather than leave it until after November elections.
House Democratic leaders have hedged on the timing of a vote on extending tax cuts enacted during the former George W. Bush administration, declining to say whether it will occur before November 2 congressional elections.
"The Congress has an opportunity this week to end some of the uncertainty by allowing the American people to know what the tax rates are going to be at the end of the year," Representative John Boehner said. "To adjourn without dealing with this means that in their minds the elections are more important than jobs for the American people."
On Friday, House Speaker Nancy Pelosi said the House would vote this year on extending middle-class tax breaks but appeared to hint at a delay until after the November midterm elections, where Democrats are seen facing steep losses in the House.
(Reporting by Glenn Somerville; editing by Jackie Frank)