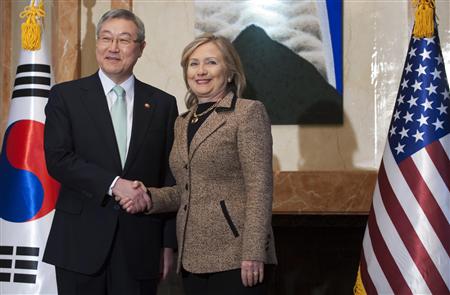 By Matt Spetalnick
SEOUL (Reuters) - Secretary of State Hillary Clinton flew to South Korea Saturday to reassure Seoul about the U.S. commitment to sealing a long-delayed trade deal and to coordinate strategy over the North Korea nuclear standoff.
Clinton arrived for talks with South Korean Foreign Minister Kim Sung-hwan Saturday and President Lee Myung-bak Sunday, before a trip to Japan in a gesture of support following last month's earthquake and tsunami disasters that killed thousands and crippled a nuclear plant.
The shift in focus to Asia follows Clinton's attendance at a NATO conference in Berlin where the alliance's foreign ministers faced strains over a Western air campaign in Libya against forces loyal to Muammar Gaddafi.
U.S. and South Korean trade negotiators struck a deal in December on a free trade pact, which was signed in 2007 but had not been ratified for three years because of U.S. auto and beef industry concerns.
However, both the Congress and the South Korean parliament have yet to pass bills to approve the pact, despite U.S. President Barack Obama's renewed push for ratification.
"I'm very encouraged and determined about the passage of the free trade agreement," said Clinton, sitting across a conference table from Kim in Seoul. "We will be consulting and making the case together to our respective legislatures and I'm very confident there will be a positive outcome."
"It is important that we're meeting in the home stretch of the Korean free trade agreement," she added.
Sander Levin, the top Democrat on the U.S. House of Representatives Ways and Means Committee, last month criticized Republicans for refusing to move ahead on the South Korea deal until the White House sends Congress implementing bills for long-delayed trade agreements with Colombia and Panama.
Republicans broadly support the South Korea deal, but have threatened to block a vote on the pact unless the White House also submits the other two pending trade deals for approval.
U.S. Trade Representative Ron Kirk has said the Obama administration wants to win congressional approval of a free trade agreement before July. The agreement is currently pending in South Korea's parliament and is expected to be passed.
The U.S. International Trade Commission estimated in 2007 the South Korean agreement would boost U.S. exports by about $10-11 billion annually, while increasing imports from that country by about $6.5-7.0 billion.
NORTH KOREA
Clinton's visit also comes amid a diplomatic flurry that could bring renewed efforts to resume long-stalled six-nation talks with Pyongyang aimed at curbing its nuclear weapons ambitions.
A South Korean nuclear envoy was in Washington this week meeting senior U.S. officials.
North Korea has slipped down U.S. President Barack Obama's policy agenda recently as he has focused heavily on turmoil in the Middle East, including the Libya conflict, and economic and budget problems at home.
Pyongyang has said it wants to return to nuclear talks, but Seoul and Washington have questioned its sincerity -- pointing to revelations in November about major advances in Pyongyang's uranium enrichment program.
A senior U.S. official said Clinton's visit was also intended to show support for South Korea's openness to renewed dialogue with the North, which Washington sees as a prerequisite for returning to six-party talks.
"I would like to express our deep appreciation for your steadfast support and close coordination with us in dealing with North Korean issues," South Korea's Kim said.
North Korea's latest overtures follow a recent spate of hostile actions, including the shelling of a South Korean island on November 23 and its suspected sinking of a South Korean ship just over a year ago.
Pyongyang had promised to abandon its nuclear programs under a 2005 aid-for-disarmament deal that collapsed amid accusations on both sides that neither kept its end of the bargain.
The North tested nuclear devices in 2006 and 2009 and has also conducted long-range missile tests.
Clinton and her South Korean hosts also discussed Japan's triple disaster, which has drawn sympathy but also criticism from its neighbors for Tokyo's management of its nuclear woes.
"We all recognize that Japan is in a critical phase and we want to encourage them as they rebuild and recover to maintain an international focus, that this crisis does not trigger an inward-looking Japan," the U.S. official said.
(Writing by Jeremy Laurence and Matt Spetalnick; Editing by Andrew Marshall and Sophie Hares)