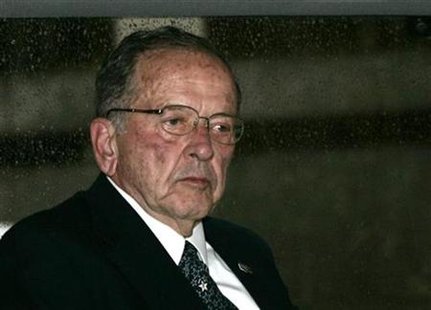 By Yereth Rosen
ANCHORAGE, Alaska (Reuters) - The pilot of a plane carrying former Senator Ted Stevens was apparently in control of the aircraft and trying to climb just before it slammed into a mountain slope, killing Stevens and four others, according to files released on Thursday.
The DeHavilland Otter crashed on August 9, 2010 while carrying Stevens and eight others back from a fishing lodge owned by the Alaska telecommunications company GCI.
Pilot Theron "Terry" Smith also died in the crash, along with a GCI executive and her 16-year-old daughter and a Washington, D.C.-based lobbyist who was a former Senate aide to Stevens.
Stevens was the longest service Republican in Senate history, and held several leadership positions. He was known for getting federal money for Alaska.
An analysis of the plane's speed and angle when it hit a mountain slope near southwestern Alaska's Bristol Bay showed that "control/input maneuvering prior to terrain contact was probable and aerodynamic stall was improbable," said one of the reports, which was among more than 700 pages of documents released on Thursday by the National Transportation Safety Board.
If an altitude alarm was sounded in the plane, it would probably have done so four to six seconds before impact, according to the documents.
Smith was a well-respected and decorated Alaska pilot, but he had potential health problems that have been investigated as a possible contributing factor.
Smith, 62 at the time of his death, suffered a stroke in 2006 that prevented him from flying for two years.
Although his wife and some colleagues considered him to be fully recovered from the stroke, one of the newly released reports discusses a July 4 incident in which the veteran pilot appeared to struggle to understand a hydraulic system that he had used many times before.
He had been stopped at least once after his stroke by a law-enforcement officer who suspected him of impaired driving, according to one of the reports.
Smith had been a commercial pilot for Alaska Airlines, a staff pilot for ConocoPhillips Inc., which flies workers to the North Slope oil fields, and had served as a director of the Alaska Aviation Safety Foundation and the Alaska Aviation Heritage Museum.
He had won numerous awards and commendations and flown with former Federal Aviation Administrator Marion Blakey.
He was known as a cautious pilot and his health habits were good, according to the files. He did not smoke or drink coffee, and only rarely consumed alcohol, according to the files.
But he had a substantial family history of stroke, according to the files.
The probe of the crash continues, said Terry Williams, a spokesman for the NTSB in Washington.
(Editing by Dan Whitcomb and Greg McCune)