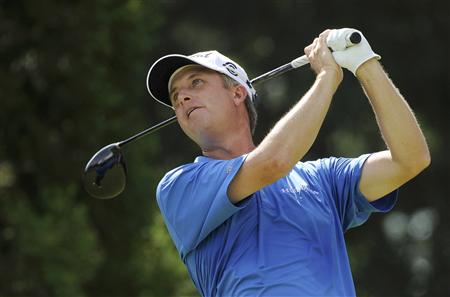 By Mark Lamport-Stokes
JOHNS CREEK, Georgia (Reuters) - David Toms revived memories of his breakthrough victory in the 2001 PGA Championship at Atlanta Athletic Club as he charged into contention for this year's edition at the same venue.
The 44-year-old American scorched the treacherous back nine in a sizzling five-under-par 30 on Saturday, earning him a best-of-the-day five-under 65 in the season's final major.
Ten years after Toms claimed his only major title with a one-stroke victory over compatriot Phil Mickelson here, he ended the third round five strokes off the lead with a two-under total of 208.
"I hit a lot of quality shots but really didn't get anything going at all," Toms told reporters of his quiet outward nine of level-par 35.
"Then I got back there on No. 12, hit the green in two and made a long eagle putt. I drove the next green off the tee when they had the tees up and two-putted for birdie there."
The straight-hitting American enjoyed a major slice of fortune when he holed out from a greenside bunker to birdie the par-four 14th.
"I could have made bogey or double pretty easily there, and to hole a bunker shot and make birdie, that was a bonus," he said with a smile.
"The pin was on the left-hand side of the green and I was in the far right-hand bunker so I'm guessing it was a good 40-yard bunker shot."
OUTSIDE CHANCE
Toms also birdied the brutal par-four last to give himself an outside chance of pushing on for a second major title in Sunday's final round.
"Obviously it will take a great round tomorrow," the 13-times PGA Tour winner said. "That was my goal of the day was to have a good round. I didn't know it was going to be a great round.
"I just wanted to have a good round to give myself a chance to have that hot round tomorrow, maybe like (Steve) Stricker did the first day (with 63) to have a chance.
"If I can have one of those days, I certainly will be in the mix."
On Saturday, however, Toms enjoyed repeated flashbacks on the back nine of his 2001 triumph as he surged up the PGA Championship leaderboard.
"People were saying stuff in the crowd ... I had a lot of memories for sure," he said. "But the golf course is different now. It is much more demanding, so I have to play extremely well (tomorrow)."
(Editing by Simon Evans)