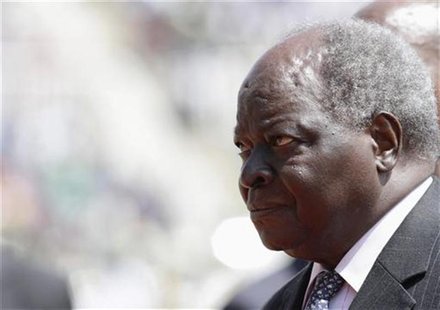 By Duncan Miriri
NAIROBI (Reuters) - Kenyan President Mwai Kibaki urged striking doctors at state hospitals on Monday to resume work after a week-long stoppage over demands for higher pay left patients unattended.
During a speech to mark 48 years of independence from Britain, Kibaki directed his minister of public service and other relevant officials to conclude talks over the pay dispute with the doctors' union.
About 2,300 members of the doctors' union stopped work after the government said it could not meet their demands for a 300 percent pay rise. The doctors say their terms haven't been looked at for more than a decade.
"I am concerned that the doctors have been on strike over the last one week. We need doctors in the hospitals to attend to the many Kenyans needing medical attention on a daily basis," Kibaki said.
The doctors, who say they take home an average of 35,000 shillings ($390) a month, joined other workers in the clamor for higher pay, after inflation galloped to 20 percent in November, rising for the 13th straight month.
The east African nation, which holds a general election next year, has experienced widespread discontent this year after food shortages, higher oil prices and a steep fall in the shilling currency against the dollar, drove up costs of living.
Demands for higher pay by workers in various sectors, coupled with increased spending in the run-up to elections late next year, have stoked concerns that wage increments on a massive scale could lead to a second round of inflationary pressures.
WAGE BILL
"As we seek to further grow the economy, the government will remain sensitive to the plight and welfare of public servants and other workers," Kibaki said.
"We must, however, remain patient and understanding on the overall national wage bill. We must also adopt a give and take attitude during negotiations in order to avoid a disruption in service delivery in our nation."
Kibaki said the shilling had appreciated against the dollar in the past few weeks, following steps taken by the government to halt its slide, including the raising of interest rates.
He urged the country of 39 million people to draw lessons from the economic challenges that it has faced this year, including the need to cut the country's appetite for foreign produced goods in favor of locally manufactured goods.
A leap in imports amid flat exports was one of the factors blamed for the weakening of the shilling, as it drove up demand for dollars to fund the purchases.
"As a nation, we must also urgently diversify our traditional export base and foreign exchange earning sectors of horticulture, tea, coffee and tourism," he said.