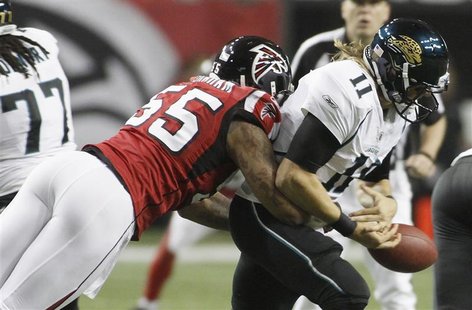 (Reuters) - The Atlanta Falcons had little difficulty dispatching the woeful Jacksonville Jaguars 41-14 at the Georgia Dome on Thursday to keep their pursuit of a playoff place on track.
The Falcons improved to 9-5 and moved ahead of the Detroit Lions in the hunt for an NFC post-season spot, while the Jaguars fell to 4-10.
Jacksonville's rookie quarterback Blaine Gabbert had a miserable game and gave up two fumbles, both of them forced by John Abraham, which Atlanta converted into 10 points, including a 13-yard return for a touchdown by Corey Peters early in the third that stretched the Falcons lead to 34-0.
Abraham also had three-and-a-half sacks to lead the Falcons defense that allowed just 207 total yards.
"This is a game I felt like I could do something," Abraham told reporters after being critical of his own performance against the Carolina Panthers last week.
"Last week missing three sacks against Cam (Newton), if that was a regular quarterback those would have been sacks. He did a great job of breaking tackles and getting away. I said this week, if I get that opportunity, I'm getting the guy down."
Julio Jones scored on a 29-yard reception on the Falcons opening drive and after a Matt Bryant field goal, Michael Turner extended Atlanta's lead to 17-0 on a five-yard run early in the second quarter.
Receiver Roddy White caught 10 passes for 135 yards and two scores.
Zach Potter returned a blocked punt 46 yards to score Jacksonville's first touchdown late in the third quarter and Chastin West added another in the final minute of the game.
"A game like that is going to test your character," Jaguars interim coach Mel Tucker said after the loss. "It's going to reveal character. It's how you respond to it."
(Reporting by Mike Mouat in Windsor, Ontario; Editing by Peter Rutherford/Patrick Johnston. To query or comment on this story email sportsfeedback@thomsonreuters.com)