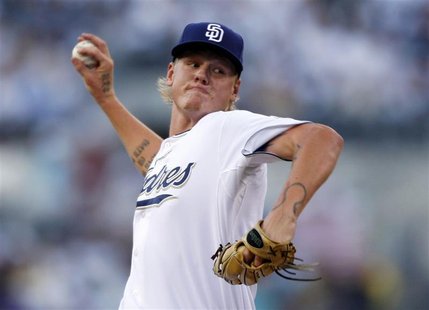 (Reuters) - The Cincinnati Reds boosted their pitching rotation by acquiring right-hander Mat Latos from the San Diego Padres as part of a five-player trade, the National League team said Saturday.
Cincinnati sent infielder-outfielder Yonder Alonso, pitchers Brad Boxberger and Edinson Volquez and catcher Yasmani Grandal to San Diego for 24-year-old Latos.
"Mat is a big, strong young pitcher with electric stuff," Reds general manager Walt Jocketty said in a statement.
"We consider him to be a potential number one starter who, contractually, we have under control for four more years. To acquire a pitcher who is ready to fit into the top of a rotation, you have to give up talent."
Latos posted a 9-14 record with a 3.74 earned run average in 31 starts for San Diego last season.
Volquez (5-7) and Alonso played for the Reds last season. Boxberger and Grandal were minor leaguers.
(Writing by Gene Cherry in Salvo, North Carolina; Editing by Ken Ferris)