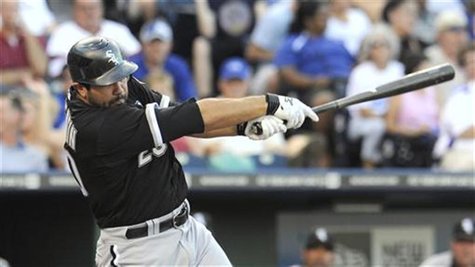 (Reuters) - The San Diego Padres have given their offense a boost by acquiring two-time All-Star outfielder Carlos Quentin from the Chicago White Sox in exchange for two pitching prospects, the Major League Baseball teams said on Saturday.
Minor Leaguers Simon Castro and Pedro Hernandez went to the White Sox.
Quentin, 29, hit .254 with 24 home runs, a career-high 31 doubles, 77 runs batted in and 53 runs scored in 118 games for the White Sox last season. He has hit at least 20 home runs for four consecutive seasons, including 36 in 2008.
"Improving our offense is a priority this offseason," Padres General Manager Josh Byrnes said in a statement, "and the acquisition of Carlos gives us a proven middle-of-the-order bat. We specifically targeted Carlos because of his production and his hard-nosed style of play."
(Reporting by Gene Cherry in Salvo, North Carolina; editing by Stephen Wood)