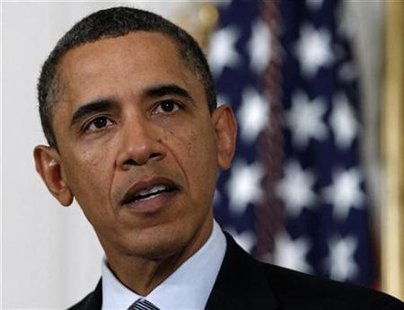 WASHINGTON (Reuters) - President Barack Obama will have lunch with Republican leaders from the U.S. House of Representatives on Wednesday, the White House said, in his latest bid to improve relations with his political opponents.
Democrat Obama will meet with House Speaker John Boehner, House Majority Leader Eric Cantor and House Majority Whip Kevin McCarthy, the top three Republicans in the House.
All three lawmakers have accepted the White House invitation and Boehner's office said he was looking forward to discussing their proposals to cut spending and boost hiring.
Obama unveils his 2012 budget proposal on Monday, kicking off a tough debate with Republicans who want to reduce government spending and oppose any increase in taxes.
The last time Obama asked Republicans for lunch -- immediately after his Democrats lost heavily in November congressional elections -- they told him they were busy.
Obama is trying to encourage a more bipartisan tone in Washington after the elections, in which Republicans won control of the House and gained members in the Senate.
The Wednesday gathering follows lunch between Obama and Republican Senate leader Mitch McConnell last Friday.
White House spokesman Robert Gibbs said the lunches were part of an effort by the administration to improve outreach to Republican lawmakers. He declined to discuss what topics the president and McConnell talked about. McConnell's office also declined to discuss the lunch.
Obama addressed the powerful U.S. Chamber of Commerce on Monday, trying to improve relations with the corporate world that were strained during the first two years of his presidency.
Obama also picked Bill Daley, formerly of JPMorgan Chase, to be his chief of staff and recently brought on General Electric Co Chief Executive Jeffrey Immelt as his new top outside economic adviser.
He also agreed on a tax deal with Republicans last year and has promoted initiatives to boost U.S. exports.
(Reporting by Alister Bull and Thomas Ferraro; Editing by Sandra Maler and Bill Trott)