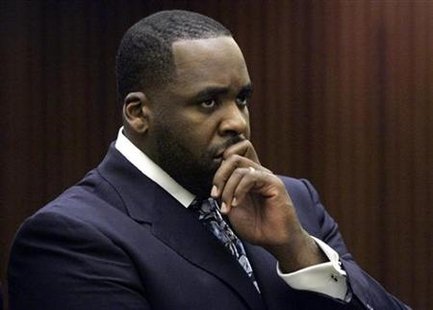 DETROIT (Reuters) - A federal judge on Monday entered not guilty pleas to racketeering, extortion, and a slew of other charges on behalf of imprisoned former Mayor Kwame Kilpatrick, his father and three co-defendants.
Kilpatrick, a 40-year-old Democrat who was considered a rising star before resigning as mayor in 2008, stood mute when asked for a plea to the charges in a wide-ranging 38-count federal indictment that could send him to jail for 30 years.
U.S. Magistrate Mark Randon entered not guilty pleas on behalf of Kilpatrick and the others, and released all but Kilpatrick on bond.
Kilpatrick is in the midst of serving a 14-month sentence for violating the terms of his 2008 probation on state convictions for perjury and obstruction of justice, said a spokesman for the U.S. attorney in Detroit.
Kilpatrick's lawyer has said the twice-elected former mayor plans to fight the charges.
The federal charges brought last year allege Kilpatrick rigged millions of dollars in sewer, security, demolition and other city work for friend and contractor Bobby Ferguson, who is also charged.
Kilpatrick was also charged with extorting a businessman seeking to build a casino in Detroit and illegally evading taxes and filing false returns.
Charged as well in the wide-ranging federal probe were Bernard Kilpatrick, the former mayor's father described as a consultant, the city's former water and sewer director Victor Mercado, and Kilpatrick's former aide Derrick Miller.
Another judge set a hearing for April 13 in the case, and appointed lawyers for Bernard Kilpatrick and Victor Mercado.
Prosecutors have secured several guilty pleas and agreements to testify from business people and former city administration figures, the spokesman said.
The scheme -- dubbed The Kilpatrick Enterprise by prosecutors -- netted the former mayor hundreds of thousands of dollars from bribes and diverted donated money intended for charitable causes and his campaign, according to the indictment.
Under a 2008 plea deal, Kilpatrick resigned as Detroit mayor, spent four months in jail, agreed to pay $1 million to the city and surrendered his law license.
He also pleaded guilty to two felony charges stemming from his role in the city's $8.4 million settlement of a whistle-blower lawsuit brought by two fired police officers.
(Reporting by Ruchi Naresh; Writing by Andrew Stern)