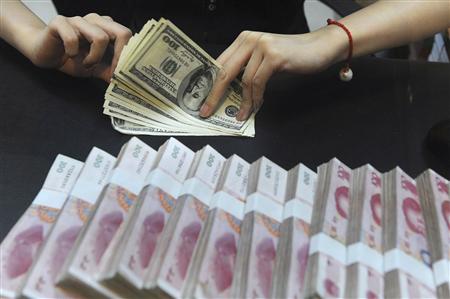 BEIJING (Reuters) - China defended its exchange rate policy on Friday, days before President Hu Jintao heads to Washington, with a senior diplomat saying the value of the yuan is based on the country's own national interests.
U.S. President Barack Obama is likely to raise U.S. complaints that Beijing maintains the yuan at artificially weak levels, giving China has an unfair trade advantage.
The comments by Chinese Vice Foreign Minister Cui Tiankai suggest that President Hu may push back with China's own counter-argument.
"First of all, I want to say that in undertaking reform of the exchange rate formation mechanism for the renminbi ... that is based on China's own developmental interests and needs, and is not in response to demands from another country," Cui said.
"Of course, in doing this, that can benefit both China's own reform and opening up and development, and also trade and economic relations with other countries, including with the United States," he added, speaking at a forum hosted by the Foreign Ministry.
U.S. Treasury Secretary Timothy Geithner said on Wednesday that Washington was "willing to make progress" in giving China greater access to the American market and high-tech goods, provided that it saw some flexibility from Beijing on its tightly controlled exchange rate regime.
Cui said he agreed with a comment he cited as coming from Geithner: "Both sides have a great deal invested in each other's success."
(Reporting by Chris Buckley, Writing by Sui-Lee Wee and Ben Blanchard; Editing by Ken Wills)