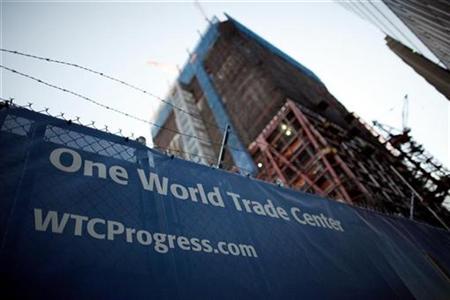 NEW YORK (Reuters) - New York state and the Port Authority of New York and New Jersey are both grappling with severe financial problems, but selling off One World Trade Center to bail them out would be a mistake, according to Port Authority executive director Christopher Ward.
Both Ward and Janno Lieber, who directs the World Trade Center's rebuilding for developer Larry Silverstein, agreed in interviews that the commercial market was firming.
The Port Authority's One World Trade Center now stands about 56 stories high. Four World Trade Center, one of three towers Silverstein is building, stands 13 stories high.
"People are starting to get excited about moving here as they are starting to see the buildings rise," Lieber said.
"The city's economy is leading the recovery," Lieber said, adding media and financial companies are drawn to the prospect of four modern "green" skyscrapers suitable for their high-tech needs, especially in a city where large office buildings often have to be retrofitted or lack open floor space.
Ward, who was just reappointed by Democratic Governor Andrew Cuomo, said the Port Authority was now confident that it no longer needed New York state to take space in One World Trade Center, partly because the state is too cash-strapped to afford the high rents.
"There may be a long-term decision to bring in less of the state or none at all," Ward said, noting New York now probably pays less than $25 a square foot for its downtown offices.
"We think we can definitely attract a higher-paying commercial tenant," Ward said.
Both the federal government and media giant Conde Nast are still expected to lease space in the complex.
Ward noted that the real estate market was far from as strong as it was when Silverstein signed a long-term lease for the properties just two months before the September 11, 2001 attacks.
"To sell out at the bottom of the market, in the market that we are in right, now would potentially be the worst mistake that we could kind of make," Ward told Reuters.
"The biggest mistake we would make now would be to sell short now -- to think that we could make up either the state's financial difficulties or the Port Authority's," Ward said.
"This has to be an asset that returns value to the Port Authority for years to come," he added.
One World Trade Center, called the Freedom Tower until that name failed to entice tenants, will likely be 85 percent or so rented by 2016 or 2017, Ward said.
The building, whose 1,776-foot (541-meter) height will match the year of U.S. independence, is expected to be finished by late 2013, around four years behind schedule.
Silverstein's Four World Trade Center should open in 2013, followed by Three World Trade Center in late 2014 or early 2015.
When Two World Trade Center is built depends on whether it attracts tenants, but Lieber said: "We are confident there definitely is interest in the marketplace."
(Reporting by Joan Gralla and Dan Trotta)