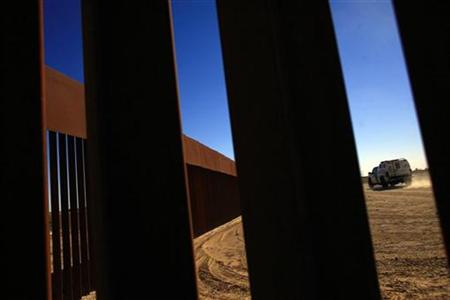 By Tim Gaynor
PHOENIX (Reuters) - A former U.S. Border Patrol agent who said he was fired because of his views on drug legalization and illegal immigration, has filed a lawsuit against his former employer alleging unlawful dismissal.
In the suit brought jointly with the American Civil Liberties Union of New Mexico on January 20, Bryan Gonzalez seeks undisclosed damages for his September 2009 dismissal arguing that it violated his first amendment rights to free speech.
"It had nothing to do with my work ... the only thing I was fired for was my comments," Gonzalez, 26, who grew up in El Paso, Texas, across the border from Mexico's most violent city, Ciudad Juarez, said in an interview on Thursday.
"I believe that the drug war just hasn't worked, and I think it's important for people to realize that it hasn't worked," he said.
The suit names Victor M. Manjarrez Jr., chief patrol agent for the Border Patrol's El Paso sector as defendant. Reuters contacted the sector, but a spokesman declined to comment as the issue was under litigation.
Gonzalez, whose mother is a naturalized U.S. citizen from Mexico, held dual U.S. and Mexican citizenship until the age of 18. He began working as a Border Patrol agent in October 2007, and was still a probationary agent when he was fired less than two years later.
His suit alleges that the dismissal followed a conversation with a colleague, agent Shawn Montoya, during a work break in April 2009, in which he said he thought legalizing drugs would end cartel violence south of the border.
He also remarked to Montoya that he understood the economic factors that drive undocumented migrants to cross the U.S. border to seek work -- although he says his views did not affect his ability to police the border.
"I was paid to do a job, and my opinions had no interference with the ability to do my job, just like any soldier can disagree with the war and still fight the war," Gonzalez told Reuters, adding that he had received only positive monthly and quarterly reviews for his work.
GRILLED OVER POLITICS
Montoya reported Gonzalez's comments on to a supervisor, who informed the Joint Intake Command in Washington, according to the lawsuit. The Office of Internal Affairs launched an investigation soon after.
A few months later, Gonzalez said he was ordered to attend an interview with internal affairs, which he described as "more of an interrogation than anything."
"I was grilled upon my political stance, I was even asked ... if I had plans to overthrow the government," he said.
The Border Patrol fired him on September 16 2009, just weeks before his probationary period expired.
His termination letter stated, in part, that he held "personal views that were contrary to the core characteristics of Border Patrol agents, which are patriotism, dedication, and esprit de corps," according to the lawsuit.
Curbing raging drug cartel violence, which has killed more than 34,000 people in Mexico since late 2006, is key concern to both Washington and Mexico City
Speaking more than a year after he was fired, Gonzalez says the "tragedy" unfolding in El Paso's sister city of Ciudad Juarez, where more than 3,000 people were slaughtered last year in drug-related violence, was "devastating."
"It is ... something that I saw every day. All the violence that is happening hit home very much ... it's devastating to know that the city is pretty much a war zone."
He says he has no regrets at expressing his views on the war on drugs and illegal immigration. Asked if he feels bitterness toward his former employers, he pauses.
"I'm still dumbfounded at the fact that you can be fired for having an opinion. I thought having an opinion was the American way."
(Editing by Greg McCune)