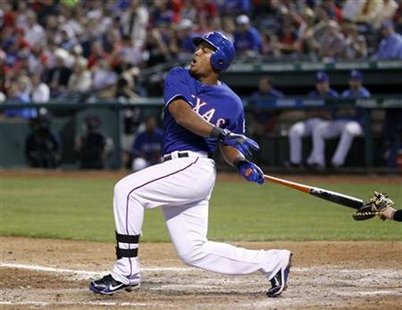 ARLINGTON, Texas (Reuters) - Michael Young's walk-off single in the bottom of the ninth inning lifted the Texas Rangers past the Toronto Blue Jays 5-4 on Saturday.
The Rangers, trailing 4-3 in the ninth, rallied to score two runs on two walks, an error, three bunts and Young's single.
"Whatever it takes," Young told reporters. "We had three well-executed bunts, we caught a break on the one, and we ran the bases aggressively after that. It worked out well.
"Obviously, we'd love to not make it as interesting, but we'll take a win any way we can."
Pinch hitter Mike Napoli led off the inning with a walk and Mitch Moreland was safe on a bunt when relief pitcher Marc Rzepczynski's throw to first base was off the mark.
"On the bunt play I started thinking too much, maybe to go to second, but then I rushed the throw to first," Rzepczynski said. "It's my job to come in there and get those first two guys and I just didn't do it."
The Rangers then executed two consecutive sacrifice bunts to tie the score and move the go-ahead run to third base.
"You just got to play baseball in the way it presents itself," Rangers manager Ron Washington said. "Great execution in that inning. Great execution."
Young then delivered the winning hit over the head of Corey Patterson, who entered the game as a defensive replacement in right field.
"It looked like a routine fly ball that ended up just drifting and once he (Patterson) got turned around, you knew right then he was in trouble," Blue Jays manager John Farrell said.
"He was playing average depth but he just wasn't able to recover when he got turned the wrong way."
Rzepczynski took the loss, facing two batters without recording an out, while Rangers reliever Darren Oliver picked up the win after facing one batter and recording the final out of the ninth inning.
The Blue Jays opened the scoring in the first but the Rangers responded with single runs in three consecutive innings to take a 3-1 lead in the fifth.
Toronto reclaimed the lead in the sixth with three runs sparked by a solo home run by J.P Arencibia.
(Reporting by Mike Mouat in Windsor, Ontario; Editing by John O'Brien)